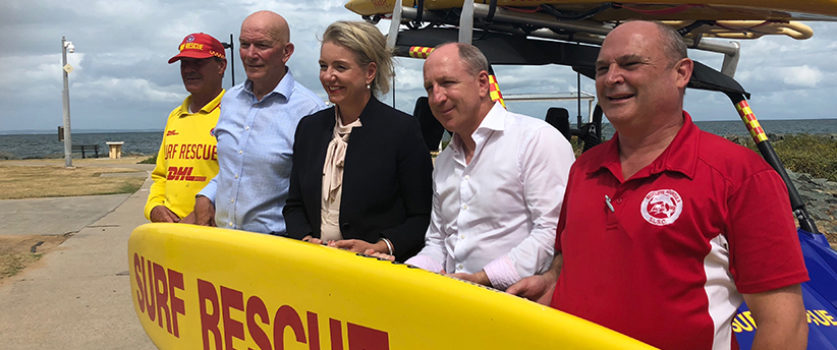 Swimming and participating in other recreational activities at the beach can provide significant health benefits for senior Australians.
The Liberal & Nationals Government recognises this and has provided Surf Life Saving Australia with a grant of $530,000 to support its Silver Salties fitness program, designed for all Australians over the age of 65.
Minister for Sport, Senator Bridget McKenzie announced the grant to Surf Life Saving Australia today at the Redcliffe Surf Life Saving Club in Moreton Bay, Queensland.
CEO of Surf lifesaving Australia, Adam Weir, and President Graham Ford AM both attended and welcomed the grant.
"The Liberal & Nationals Government is delighted to provide this grant to support Silver Salties – a widely-accessible, low-impact program that offers social and active participation opportunities to senior Australians of all abilities, regardless of their mobility, swimming capability or fitness levels," Minister McKenzie said.
"Surf Life Saving Australia will develop a framework to increase the number of older Australians in our coastal communities who participate in recreational activities on our beaches.
"The organisation will also complete a web-based program, accessible by all Surf Live Saving clubs across the country, to encourage the implementation of fitness programs for senior Australians at the grassroots level."
Minister McKenzie said Australians were living longer and the Move It Aus Better Ageing program was an important step in helping older Australians to get the most out of their senior years.
"As outlined in the Government's National Sport Plan – Sport 2030 – no matter what your age and no matter what your stage, we're encouraging all Australians to embrace the philosophy of "Movement for Life". This is a really important step in that process," Minister McKenzie said.
"On current trends, the number of Australians aged 65-plus is expected to double in the next 40 years.
"This shift presents a challenge in broader health terms but provides a chance for sport and physical activity to make a positive difference to the lives of older Australians."
Currently only 25 per cent of Australians over 65 meet the Department of Health physical activity guidelines of 30 minutes activity per day.