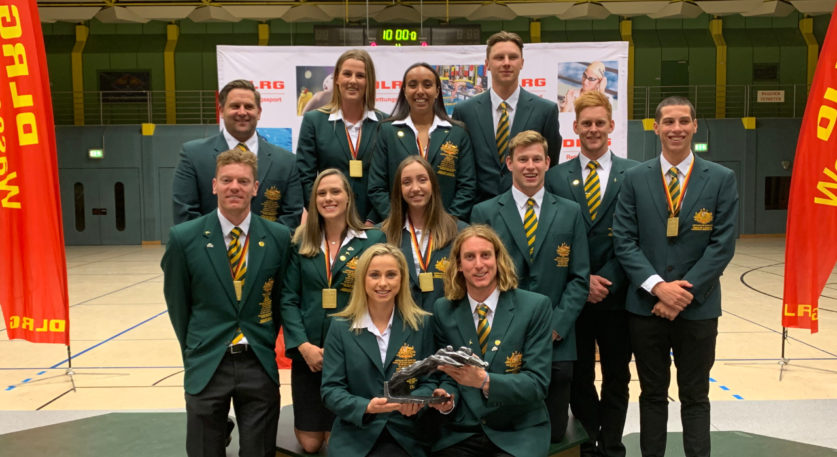 Australian Life Saving Team Defend German Cup Crown
The Australian Life Saving Team (ALT) has produced the most dominant performance in the history of German Cup competition breaking four world records and claiming 16 gold medals out of a total 21 over the course of the weekend.
After retaining the overall pointscore crown from the 2017 German Cup competition, the ALT claimed the top 3 placings among male athletes with Bradley Woodward, Jimmy Koch and Matt Davis securing the top three male individual pointscores of the meet.
Not to be outdone by their male teammates, Lani Pallister and Prue Davies claimed the first and second place respectively as the top female athletes of the meet.
Day two of competition saw both Pallister and Davies break their own youth and open 200m Super Lifesaver World Records which they set at the 2018 Life Saving World Championships held in Adelaide, South Australia.
Pallister, who made her open team debut at German Cup started day two of competition picking up gold in the 100m Rescue Medley with teammates Mariah Jones and Rachel Eddy finishing in second and fourth places respectively.
The 100m Rescue Medley saw the men follow with similar results as current world record holder Matt Davis finished second to teammate Bradley Woodward, with both men swimming under the coveted one-minute mark.
Woodward then went on to win gold in the 200m Super Lifesaver beating out Italian Daniele Sanna, with Davis finishing in a very close third.
Australian Life Saving Team Head Coach Kurt Wilson said he was elated with the team's performance over the two days of racing in Germany.
"To have back to back days with such impressive results is a huge testament to the mindset of the team over here and how they attack each race," he said.
"To break four world records and only drop five races over the weekend is such an amazing achievement for this group of athletes and I couldn't be more proud of them."
The ALT went into the competition with a target on their backs following a dominant victory in 2017 at the German Cup and undeniably delivered on their performance expectations over the last weekend.
"We definitely made our presence felt and were once again really able to put everyone on notice that we are only continuing to improve in Pool Rescue competition," Wilson said.
"There are some really exciting athletes coming through and to see debutants stand on the podium on multiple occasions will continue to see us move from strength to strength."
The Australian Life Saving Team will race this weekend at the Orange Cup in The Netherlands on Saturday 30 November and Sunday 1 December.
The Orange Cup is another opportunity to race international competition as the ALT build towards the World Lifesaving Championships in September 2020 in Riccione, Italy.
Full results from the 27th International German Cup can be found at https://dp.dlrg.de/dp/