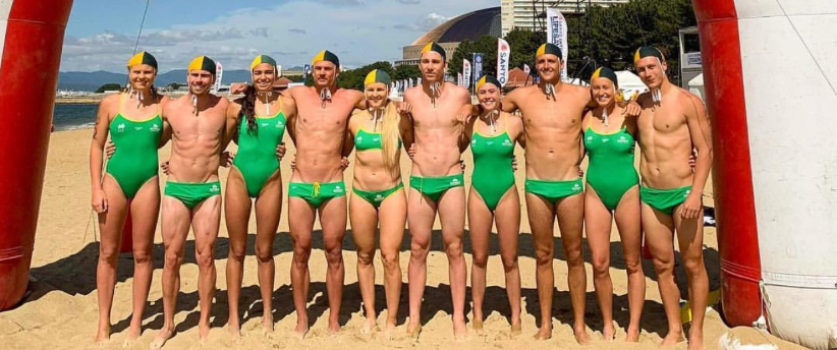 The Australian Life Saving Team has continued its unbeaten streak at Sanyo Bussan Cup cruising to a 12th straight victory over the weekend at Momochi Beach, Japan.
The Australian Life Saving Team took out the overall pointscore with 930 points from the two days of competition, well ahead of rival New Zealand (835 points) and host nation Japan (690 points.)
After co-captaining Australia's Youth Life Saving Team at the 2018 Life Saving World Championships, Naomi Scott (Manly) and Mitchell Coombes (BMD Northcliffe) cemented their leadership positions within the program by guiding the team through blustery conditions in Japan's South.
In what was her third trip to the Sanyo Bussan Cup, Scott dominated the Ironwoman racing over the two days with back-to-back victories in the M-shape racing format. Scott also picked up Surf Teams and Board Rescue victories with Brielle Cooper (Kurrawa) and Tiarnee Massie (Maroochydore) respectively.
Cooper impressed in her Australian team debut with solid performances in the Ironwoman alongside Scott, while also taking out victories in the Board Race and the newly designed Mixed Taplin Relay which includes a 500-metre run leg. The new format will be a feature of the Life Saving World Championships in 2020 and beyond.
TJ Hendy (Surfers Paradise) was another of the debutants to impress in a national team format sweeping the male board race events while also picking up a win in the Ironman event on day one. Jackson Borg (Newport) who first went to Japan in 2016 as part of the Australian Youth Life Saving Team, carried a heavy swimming load across the weekend and impressed on his return to Momochi Beach.
Kieran Gordon (Currumbin) staked his claim for further representative honours on the sand when he picked up Beach Sprint victories on both days. Gordon rounded out a solid weekend of racing with a win in both the Beach Relay and Beach Flags on day two.
Head Coach of the Australian Life Saving Team Kurt Wilson added "It's really pleasing to see a young team settle in to an international event and post really consistent performances over the weekend."
strong core of our pathways program and Sanyo Cup is a great event for our younger athletes to gain experience internationally.
"Our aim will be to continually prepare these athletes for future world championship campaigns."
The team also took part in the annual Cultural Exchange Program on Monday, teaching local Japanese school children skills in the water before travelling to Tokyo later in the week.
Over the next two weeks the Australian Life Saving Team will name both youth and open teams to compete at the International Surf Rescue Challenge to be held in Durban, South Africa across September & October 2019.
The Sanyo Bussan Cup is an annual international lifesaving competition where teams around the world are invited by host nation Japan to compete and share their lifesaving expertise.
Full event results and point scores from Sanyo Bussan Cup 2019 can be found at  http://sanyo-lifesavingcup.com/schedule
Sanyo Bussan Cup 2019 – Point Score
Test 1
Test 2
OVERALL
Place
Team
Points
Place
Team
Points
Place
Team
Points
1
Australia
465
1
Australia
465
1
Australia
930
2
New Zealand
419
2
New Zealand
416
2
New Zealand
835
3
Japan A
346
3
South Africa
348
3
Japan A
690
4
South Africa
339
4
Japan A
344
4
South Africa
687
5
Spain
253
5
Japan B
268
5
Japan B
521
6
Japan B
253
6
Spain
248
6
Spain
501
7
Hong Kong
185
7
Hong Kong
185
7
Hong Kong
370
Sanyo Bussan Cup 2019 – Australian Life Saving Team
| | | |
| --- | --- | --- |
| First Name | Last Name | SLS Club |
| Mitchell | Coombes | BMD Northcliffe |
| Brittanny | Brymer | Currumbin |
| Corey | Fletcher | Currumbin |
| Kieran | Gordon | Currumbin |
| Brielle | Cooper | Kurrawa |
| Bay | Wildin-Snedden | Kurrawa |
| Naomi | Scott | Manly |
| Tiarnee | Massie | Maroochydore |
| Jackson | Borg | Newport |
| TJ | Hendy | Surfers Paradise |
Team Coaches & Management:
Coach – Zayne Hamill
Coach – Sam Dick
Team Manager – John Brennan