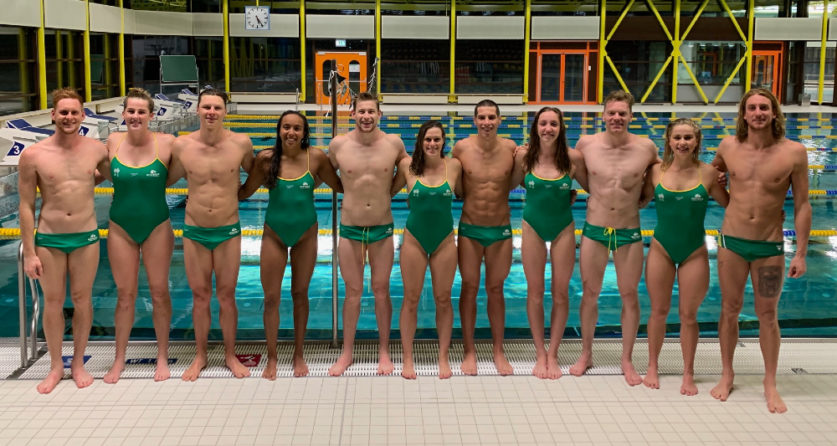 The Australian Life Saving Team (ALT) will roll out its strongest squad of Pool Rescue Athletes for their European tour ahead of their 2020 Life Saving World Championships campaign.
The ALT will kickstart their tour with the German Cup in Warendorf, Germany on 22 & 23 November and finish it off with the Orange Cup in Eindhoven, Netherlands on 30 November & 1 December.
All six of Australia's Pool Rescue athletes from the victorious 2018 Lifesaving World Championships team will take on the best Pool Rescue Athletes from around the world.
For the first time in German Cup history a nation will be looking to defend not only its overall point score title but also all team and individual award categories following Australia's clean sweep in 2017.
Currumbin duo and current World Record holders Matt Davis and Prue Davies will again lead the charge for the ALT in Warendorf, where both claimed their records two years ago.
As part of the 2018 World Championships National Teams Competition Davis won gold in the 100m Rescue Medley, in which he holds the World Record along with picking up silver medals in both 200m Super Lifesaver and 50m Manikin Carry disciplines.
"Great to have another chance to race against top quality athletes from around the world," Davis said.
"We aren't looking to put too many expectations on ourselves coming into a meet like this, after a great campaign over the last couple of years, it would be great to take out a win similar to 2017 German Cup and Worlds last year."
Davies also shone at last year's World Championships in Adelaide picking up two individual silver medals in the pool for Australia before backing up and taking gold in the 200m Super Lifesaver while representing Currumbin during Interclub Competition.
"Great to be back in Warendorf and excited heading into the weekend," Davies said.
"I originally broke the 200m Super Lifesaver World Record here, so there are some good memories from German Cup.
"It's pretty exciting for Australian Life Saving as a whole with some new faces coming on board along with athletes like Brad Woodward coming back into the mix… it is really exciting."
Joining the Currumbin duo from last year's World Championship team will be Sam Bell, Chelsea Gillett, Mariah Jones & Jake Smith. All four athletes have been a consistent force for Australia recently and will all be looking to pick up individual medals at German Cup as they did in 2017.
There will be plenty of excitement surrounding the team with dual Commonwealth Games silver medallist, Bradley Woodward back to represent the ALT for the first time since 2017.
"I'm coming into my second German Cup after being here in 2015 and hoping to put some good times on the board," Woodward said.
"The team has put in some really strong performances over the last year and there are some fresh faces who have really started to come through so we are at an exciting place as a team and can't wait for the weekend."
Joining Woodward will be Shelly Beach clubmate James Koch, who will make his Australian Life Saving Team debut after impressing at World Championships and Australian Pool Rescue Championships earlier in the year.
Joining Koch as ALT debutants, will be Lani Pallister & Jacob Loughnan who have stepped up from last years Australian Youth Life Saving Team.
After a dominant showing at Youth National Teams competition in Adelaide last year, Pallister went on to claim a Youth World Record in the 200m Super Life Saver at Open Interclub Competition in addition to claiming gold in the Open 200m Obstacle Swim.
Pallister said she was looking forward to getting some experience racing against open age competitors in her first competition as part of her first open capped team.
"I'm really excited heading into the weekend, with the success from 2017 and some really great athletes in the team we are shaping up really well," she said.
"I've just graduated from High School and recently found out that I was accepted into a Biomedical Science degree so there has been a lot going on alongside my goal of making the 2020 Olympics with trials in June of next year. However German cup has definitely been a focus of mine."
Loughnan has followed an impressive growth curve of his own breaking an U19 Australian Record at Australian Pool Rescue Championships 2019 and winning three gold medals.
Rachel Eddy will also make her return to the team after recently coming back to full health following a torn ACL in March of 2019. Eddy made her ALT debut at German Cup 2017 and will be looking to continue her recent strong form claiming some notable personal best times at a recent ALT training camp.
Head Coach Kurt Wilson noted the consistency in performances from some of Australia's top level athletes and the high expectations that have been placed on the Aussie team in the pool.
"Heading back to Europe as World Champions is definitely exciting but we know there is now a target on our back," Wilson said.
"Racing against world class competition in Europe will be a great test to see how we are tracking towards Life Saving World Championships 2020 in Italy."
The Australia Lifesaving Team will start day one of competition in Warendorf, Germany on Friday 22 November 8:30am Central European Time/ 6:30pm Australian Eastern Daylight Time.
More information on the Australian Lifesaving Team's performance will be updated in the coming days.
Australian Life Saving Team – German Cup & Orange Cup Squad
| | | | |
| --- | --- | --- | --- |
| First Name | Last Name | SLS Club | RLSSA Club |
| Lani | Pallister | Alexandra Headland | |
| Prue | Davies | Currumbin | Queensland RLS |
| Matt | Davis | Currumbin | |
| Rachel | Eddy | Currumbin | Queensland RLS |
| Chelsea | Gillett | Currumbin | Queensland RLS |
| Jacob | Loughnan | Currumbin | Port Hacking |
| Sam | Bell | Maroochydore | Port Hacking |
| James | Koch | Shelly Beach | The Hills |
| Bradley | Woodward | Shelly Beach | |
| Mariah | Jones | Tweed Heads & Coolangatta | Port Hacking |
| Jake | Smith | Trigg Island | West Life Saving Club |
Head Coach: Kurt Wilson
Assistant Coach: Rachelle King