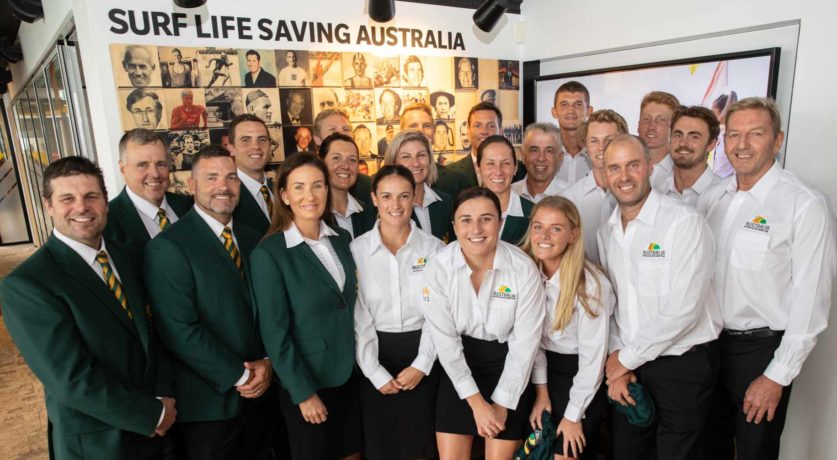 Australian Surf Boat Team Chasing an Eighth Straight Win
The Australian Surf Boat Team will be in action this Saturday February 15 for the annual Trans-Tasman Test against rival New Zealand. The teams are chasing an eighth consecutive victory, with crews hoping for some relief from predicted swells when competition kicks off at Mollymook Beach on the NSW South Coast.
The annual Trans-Tasman Series will return to local shores in 2020 with an experienced and confident Australian team looking to keep the Trans-Tasman Trophy on Australian soil for another year.
All teams were on deck in Sydney to receive their green and gold blazers at SLSA head office. Former Wallabies lock and sports media personality Peter FitzSimons and Captain Benjamin Hurst from the Royal Australian Navy were in attendance to speak to the group and present their prestigious blazers.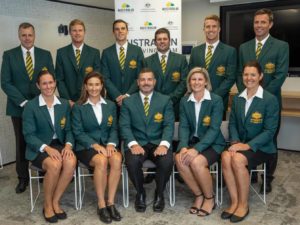 "For me, there was nothing ever better than representing Australia," FitzSimons said.
"My warmest congratulations to every member of the Australian Surf Boat Team for their selection, it's absolutely fantastic.
"I wish that the team win, but most of all, I hope they have fun and do honour for Australia."
Both Open Male and Open Female Crews selected to represent Australia will make their second appearance in the green and gold. The Northcliffe Krankitz will become the first open capped team to represent the Australian Surf Boat Team in back to back years, while also claiming the 2019 Australian Title.
Staking their claim as the best female surf boat team in the nation, Northcliffe will once again look to claim a head-to-head glory against Titahi Bay following a 2-1 victory in last year's Trans-Tasman test.
Bulli Gold will join the Krankitz in the open ranks after they previously represented the Australian Surf Boat Team in 2015. Shane Geloven's crew have consistently been one of the best crews in the country over a number of years, claiming Australian Titles and ASRL Open wins to their names.
After narrowly missing out on Australian team selection in the past couple of years, Bulli will look to beat the New Zealand crew from Muriwai in their best of 3 match races on Saturday.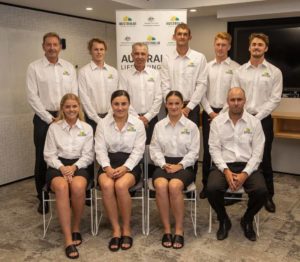 Australian Surf Boat Team Manager Greg Heard expressed his excitement around the event as a whole as well as having home ground advantage against their rivals from across the ditch.
"We definitely see it over in New Zealand where the whole beach really stands up and gets behind their crews," Heard said.
"You can definitely feel the energy over there and its something that we hope we can replicate here in Australia. To have the whole beach cheering you back to shore is a huge advantage as the home nation.
"With 350 crews down in Mollymook to compete in the ASRL Open it will be a great spectacle for the Trans-Tasman Test on Saturday and great racing across the entire weekend."
The U23 Female division will see the North Cronulla Funky's make their second consecutive appearance in the green and gold.
This marks the fourth straight year that North Cronulla has had a representative team in the U23 division. Orewa Beach will prove tough competition for the U23 girls after previously representing New Zealand in 2018.
Rob Lowery swept his Open Male crew to Australian team representation in 2018 and will return with his U23 colts crew from South Curl Curl.
The South Curl Curl team narrowly made it through a grueling selection day race-off to confirm their place in the green and gold squad. South Curl Curl will be pitted against Whangamata in Saturday's Trans-Tasman Competition.
The Trans-Tasman Test will begin with opening ceremony from 11:00am AEDT Saturday February 15 prior to national teams racing.
The ASRL Open will be livestreamed across the three days with detailed information found here.
Australian Surf Boat Team 2020
| | | |
| --- | --- | --- |
| First Name | Last Name | SLS Club |
| Rachel | Clayphan | BMD Northcliffe |
| Jennifer | Davis | BMD Northcliffe |
| Shannon | Grimsey | BMD Northcliffe |
| Sara | Western (c) | BMD Northcliffe |
| Damien | Clayphan | BMD Northcliffe |
| Ben | Lowe | Bulli |
| Heath | Mercer | Bulli |
| Dean | Roberts | Bulli |
| Fraser | Worthington | Bulli |
| Shane | Geloven | Bulli |
Team Management:
Team Manager – Greg Heard
Australian U23 Pathway Surf Boat Team 2020
| | | |
| --- | --- | --- |
| First Name | Last Name | SLS Club |
| Katlynn | Coglan | North Cronulla |
| Alysha | Lerond | North Cronulla |
| Maggie | Mahoney | North Cronulla |
| Hayley | Urquhart | North Cronulla |
| Mark | McDonald | North Cronulla |
| Brady | Holland | South Curl Curl |
| Sam | Lowery | South Curl Curl |
| Kris | Martyn | South Curl Curl |
| Owen | Sheather | South Curl Curl |
| Rob | Lowery | South Curl Curl |
Team Management:
Team Manager – Don Cotterill