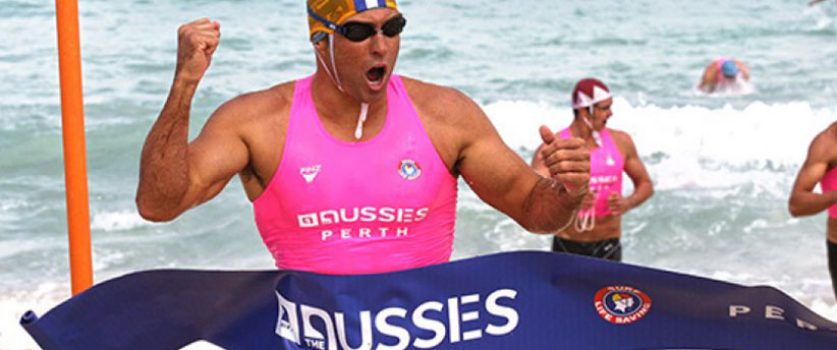 Elite rapid response teams, close emergency services ties and technology to be used
Scarborough WA, 9 April 2018 – Surf Life Saving Australia has outlined its competition safety strategy ahead of the Australian Surf Life Saving Championships being held in Perth this month.
The Australian Surf Life Saving Championships are the largest surf sports event of its kind and include over 5,000 athletes from the majority of clubs competing in more than 450 beach and ocean races. The 2018 'Aussies' will be held at Scarborough SLSC from 14 to 22 April 2018.
The event safety strategy includes inflatable rescue boat crews and jet skis to patrol races, close coordination with emergency services groups, and the adoption of technology by event organisers to monitor, review and assess surf conditions.
Graham Ford AM, President, Surf Life Saving Australia (SLSA) said the strategy reflects the organisation's commitment to continuous safety improvements at The Aussies.
"During the past few years we've trialled a number of new approaches to make sure our athletes have a safe and enjoyable experience at The Aussies. Each year we implement learnings from events to ensure the safety of our members remains first and foremost. Today's safety and operations procedures   are another step forward in delivering world class event water safety," Mr Ford said.
"Subject matter experts, athletes, community groups, local and state Government and Surf Life Saving members have all helped to inform this approach. The Aussies have a special place in our movement and we continue to work closely with our internal and external stakeholders to achieve continuous improvement across the event operations."
The Surf Life Saving Ambassador Panel, who provide advice and a competitor perspective includes current and former athletes such as Darren Mercer, Trevor Hendy, Grant Kenny, Jimmy Walker, Kristy Ellis, Peter Spence, Burt Hunt, Harriet Brown, Courtney Hancock, Ali Day and Shannon Eckstein.
Darren Mercer said "this is an opportunity for competitors to play a more direct role in the way the event is run and be party to decisions critical to the success of The Aussies. For many athletes and coaches, the next few weeks are some of the most important in their career. It's great to be a part of the discussion.
Safety measures at this year's event:
Condition reviews – assessments made throughout the day and increased use of risk ratings to measure conditions and actions.
Implementation of new technology – including the utilisation of Surf Risk Rating App and trial of Unmanned Aerial Vehicles for search, rescue and risk resource.
Diverse expertise on safety committee – including local Surf Life Saving experts, Athlete representatives, Council, Police and the Bureau of Meteorology.
Area Risk and Response Officers – will work with the Area Referee to undertake risk assessments and monitor the safety and welfare of competitors, officials and other personnel throughout the day.
More streamlined communication – with coaches, officials and competitors
Athlete Ambassador Panel – comprising of current and former athletes, as well as coaches, including Darren Mercer, Trevor Hendy, Grant Kenny, Jimmy Walker, Kristy Ellis, Peter Spence, Burt Hunt, Harriet Brown, Courtney Hancock, Ali Day and Shannon Eckstein.
Shallow water rescue team – a handpicked elite squad of athletes who form a rapid response unit for shallow water search and incident response.
For more information on the upcoming 2018 Australian Surf Life Saving Championships visit: www.sls.com.au/aussies.