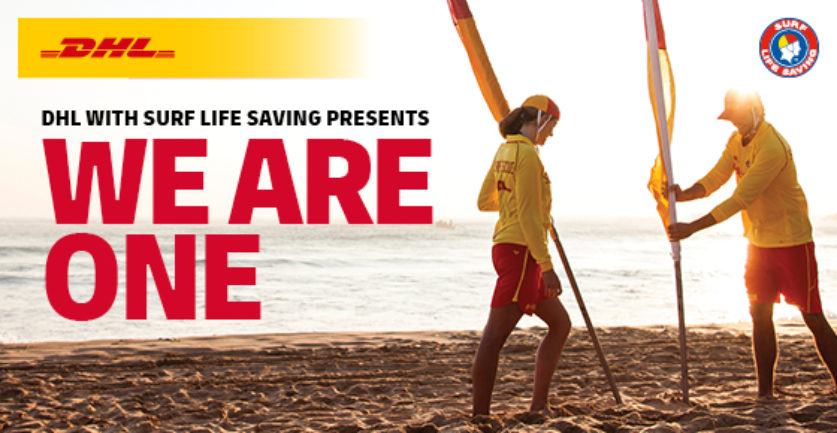 Australians invited to submit Surf Life Saving Club initiatives to the DHL Summer 'We Are One' grant program
DHL Express, the world's leading international express services provider and Surf Life Saving Australia invite all Australians to make a submission to this year's DHL Summer 'We Are One' grant program on behalf of their local Surf Life Saving Club.
The program, which runs from today until 8 March, 2020, aims to recognise and support the contributions of member-led initiatives.
Submissions, in video or written form, are to highlight existing Club initiatives that aim to create solutions within one of the following areas:
Innovation
What innovations has your Club introduced?
Sustainability
What is your Club actively doing to contribute to a more sustainable future?
Community
What is your Club doing to better help the community beyond the beach?
The winning Surf Life Saving Club will receive a grant of AU$5,000 to further fund and develop their initiative. A second and third place grant of AU$2,000 and AU$1,000, respectively, will be awarded to two runner-up Clubs.
Gary Edstein, CEO and Senior Vice President at DHL Express Oceania said, "In addition to the vital beach safety work of Surf Life Saving Clubs around the country, many members and volunteers go the extra mile to implement initiatives beyond their core mission that seek to benefit the wider local community. In years past, through the DHL Summer program, we have seen numerous Clubs demonstrate this 'can do' attitude with clever and impactful ideas. That's why this summer, we are proud to launch the revitalised grant program – 'We Are One' – to truly recognise and celebrate these Club initiatives."
Graham Ford AM, President at Surf Life Saving Australia added, "Surf Life Saving Australia's volunteers are committed to supporting their local community, providing education on beach safety, and protecting the environment of our country's beaches and coastline. The DHL Summer 'We Are One' grant program provides another opportunity for these innovative members to grow and develop their Club initiatives."
In previous years, the DHL grants have supported lifesaving initiatives at Black Head Surf Life Saving Club, helped improve facilities at Seacliff Surf Life Saving Club, and funded boating equipment at Cabarita Beach Surf Life Saving Club.
The campaign will run from 4 December, 2019 to 8 March, 2020. To enter, please visit www.dhlsummer.com/weareone.
The annual program provides Surf Life Saving Clubs the opportunity to win a grant of AU$5,000, AU$2,000 or AU$1,000 to further support and develop an existing club initiative
Initiatives within the categories of 'Innovation', 'Sustainability' and 'Community' are eligible for entry into the program until 8 March, 2020
The grant program aims to recognise the ingenuity of Surf Life Saving Clubs in not only their efforts in keeping the country's beaches safe, but also their contributions beyond the beach