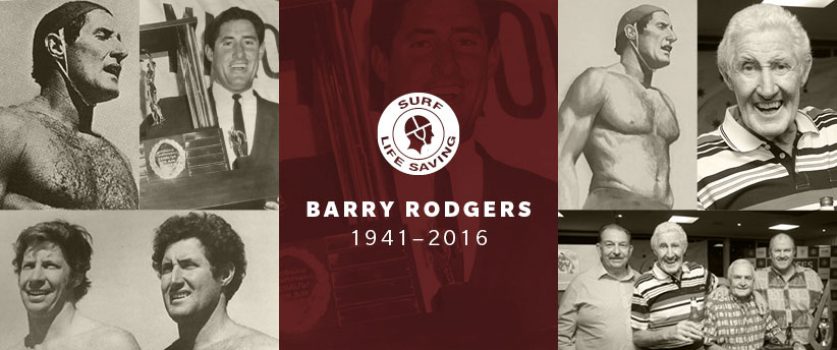 They called Barry Rodgers "Mr Surf". He earned it.
The honour roll doesn't lie. Six national titles. Eleven NSW state titles. Good doesn't even come close.
In his 1984 book "Gladiators of the Surf", renowned author Barry Galton dedicated two pages to Baz. The sub-heading said it all – "The indestructible Barry Rodgers".
"In the surf he was the master and perfectionist. Some experts say no one has ever equalled his surf sense. Many say he was the greatest."
Brilliant. Savvy. The legend of his day. The say peer accolade is the ultimate respect. Baz enjoyed that in spades.
The past few years were tough. On Tuesday, he lost his long and private battle with bowel cancer. He was 74.
Australia's first World Ironman Champion John Holt was with him until the end.
"He used to always call me Holt. Not John. That was Baz for you. The last thing he said to me was 'Holt. No tears. I'm all good.' Typical Baz," John said.
The Surf Life Saving community last saw Baz at The Aussies six weeks ago. He was in fine form at the celebrations to mark 50 years of Ironman. No one deserved to be there more.
"When the idea of the reunion was first floated we weren't quite sure if it would go ahead or not. I ended up calling Greg Allum and I said mate this is really important that we do this. We need to do this for Baz especially. This is really important we do this now because if we wait too much longer Baz isn't going to make it," John said.
It went ahead. Only in the days leading up to the event was Baz confirmed to attend. Mates saw to that.
"A few of his good friends at Maroubra Surf Club put him in a car and they did a road trip up to the Sunshine Coast. He got to see everyone one last time. This was going to be the last time with the group of mates he'd been around for most of his life," John said.
"He steeled himself to be at The Aussies one last time. He said yep I'm going to be there. He never misses The Aussies but there was no certainty he was going to make it. The thing with bowel cancer is you usually take two steps forward and then one big step back. He was doing it pretty tough for a bit and had a re-lapse back in November. Then he came good."
That was in March.
"It's been said that he just hung out for that event. He was so looking forward to it and having a great time," event organiser and former Australian Ironman Champion Greg Allum said.
"He had a ball. Everyone came up and had a chat with Baz. Ky Hurst. Trevor Hendy. He's been mates with Hayden and Grant Kenny most of his life. He loved the Mercer brothers. He thought it was great to meet all of them, young blokes he'd never spoken to before like Cam Cole. He's been a big fan of Shannon Eckstein his whole career and he talked about how much he loved talking to those guys," John said.
"Baz was so unselfish with his knowledge. Always unselfish with his wisdom of sport and happy to pass it on to anyone who he believes was prepared to put in the hard yards."
The room knew who they were talking to. 50 years of Ironman. They had Baz to thank.
You see, he was part of the Australian team which toured the USA in the 1964/65 season. Barry Galton's book notes the significance of the trip.
"The trip to the United States made by Barry Rodgers and Dennis Heussner initiated an event new to Australian surfing, the Iron Man, which gave carnivals a very necessary "shot in the arm" and Barry Rodgers a new lease of life competitively; in fact his name has become almost synonymous with the glamour of this event."
In 1966, Hayden Kenny won the first ever national Ironman title at the Australian Surf Life Saving Championships. Baz would go on to win the next three.
As Galton noted, he was "one of the greatest all-rounders" in surf. "Powerfully built, standing 190 centimetres and weighing 89 kilograms and his epic performances in all types of seas stamped him as a true 'gladiator of the surf'."
Baz was the typical Aussie larrikin. Originally a landscape gardener, he went on to be a greenkeeper at the New South Wales Golf Club. Loved a beer and could spin a yarn.
"To describe Barry as a character would be an understatement. He wore size 13 shoes but reportedly hated wearing them. When he went to work in his early days he supposedly took 24 sandwiches every day for lunch. Barry told me at Clifton Beach in 1983 he did not take quite so many, but he usually finished them off by morning tea time," Galton noted.
Legend has it he once won a belt race after eating a pie on his way to the start line.
Loved by all. Admired and acclaimed. A few years back a testimonial dinner was held at the Wentworth Hotel. 500 people turned up.
During his hat-trick of national titles from 1967-69, there was a car given away as part of the prize pool. Baz donated it back to the Surf Club. They raffled it off and the money went to a good cause. Better in their pocket he figured.
That was Barry Rodgers. Surf Life Saving Australia Hall of Famer. Sporting Australia Hall of Fame inductee. Legend. Gentleman. Generous. Friend to all.
He will be sadly missed.