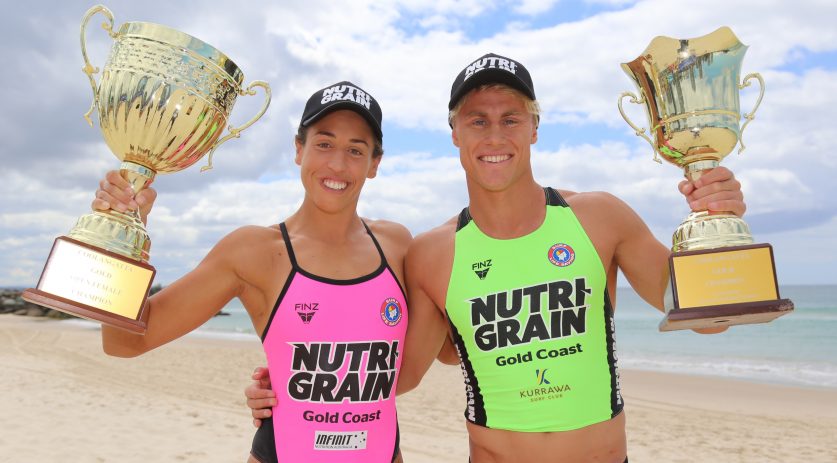 Bevilacqua and Rogers win Coolangatta Gold titles in dramatic finish
After 41.8 kilometres and over four hours of racing, it's hard to believe that it all came down to a sprint for the finish in the 2019 Coolangatta Gold.
Nutri-Grain Iron Series stars Matt Bevilacqua (Kurrawa) and Lana Rogers (Noosa) took the illustrious crowns in one of the best days of racing the Coolangatta Gold has ever witnessed, with the women's finish arguably the closest ever.
The lead changed throughout both the men's and women's events which covered 23km ski, 2.1km run, 3.5km swim, 6.1km board and 7.1km run. With today's event doubling as round one of the Nutri-Grain IronMan & IronWoman Series, there was even more at stake.
Matt against Matt, mate against mate
Tasmanian-born Matt Bevilacqua, 27, out-ran great friend and Kurrawa SLSC teammate Matt Poole to take back the lead, he had held for most of the day, and take his first Coolie Gold title in four hours, six minutes and 19 seconds.
Poole, 31, was 36 seconds further back and is set up well for the rest of the Nutri-Grain Series. James Lacy, 24, from Mermaid Beach had wobbly legs but hung on for third ahead of Currumbin's Jy Timperley (20) in fourth and TJ Hendy (Surfers Paradise) in fifth.
"I think it is the best day of my life," Bevilacqua said. "It was one of my childhood goals, the Coolangatta Gold, even when I was 16 the Nutri-Grain Series was far beyond me at that stage, so this is a proper childhood dream come true and for that reason it is the best.
"If you had of asked me before the race, I knew it was going to come down to me and Pooley… we had just done so much work. I knew that we had sacrificed so much and yes it was a bit of a script, me and Pooley just side by side with two kilometres to go four hours into the race.
"We have trained together for the last eight years, side-by-side, three times a day and I was kind of pinching myself just kind of looking at him going, you are kidding aren't you."
Bevilacqua, who was second in 2016, pushed the pace on the ski and swim, before Poole made his big move on the 6.1km board leg and looked like he might run away with the crown.
"He gave me a friendly bum pat on the way through on the board, he came flying past me, it was encouraging and I was dead at that point, I thought it was all over but I put the shoes on, got rid of my arms, I didn't have to use them anymore and switched muscle groups and everything changes.
"I have sacrificed so much since leaving home (Tasmania), all my family, my brothers and everyone are back home and you have to reward those sacrifices and I had so many sacrifices behind me."
"I had no choice but to achieve throughout my career and representing Tassie here on top of the gold podium is the first time ever for a Tasmanian which is good too and I love doing that State proud," said Bevilacqua.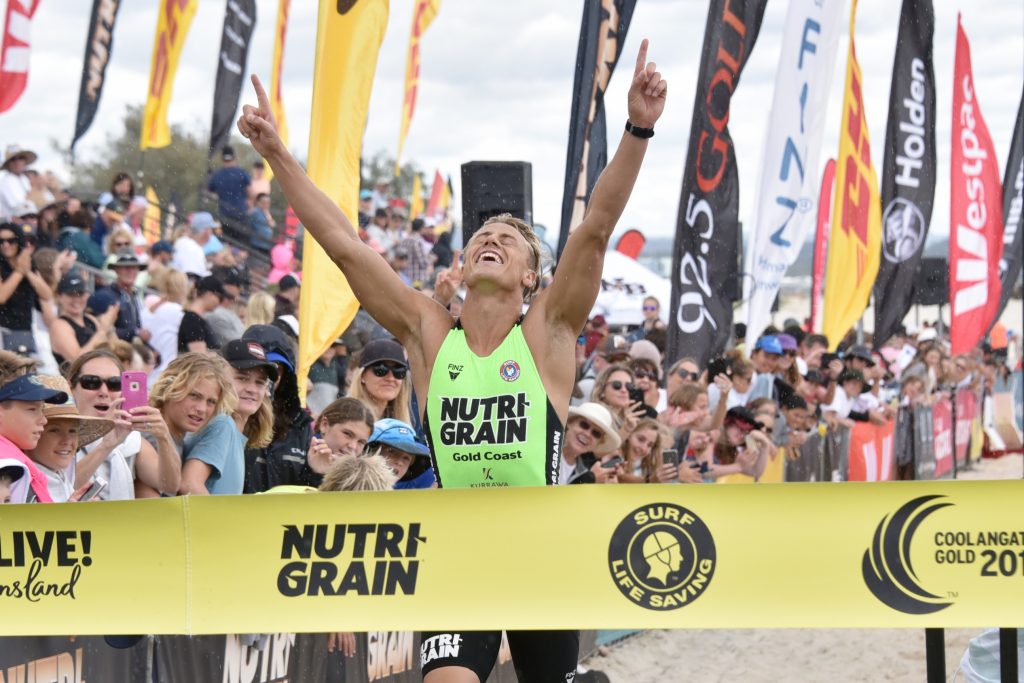 Poole, the 2017 Nutri-Grain Ironman Champion, hasn't raced the Coolie Gold for a decade and he reminded himself why.
"I now remember why it has been 10 years since I have competed in this event," an exhausted Poole said.
"It is such a tough gruelling mental battle – physically everyone is fit, but mentally it is just back and forth. You think you are out of the race, but then you are back in there.
"I thought I was out of it after the ski and then in that board I literally just gave it everything and could see myself getting closer and closer to Bevi, so it just kept me in the hunt and I just kept chasing and chasing and managed to get in front of him.
"I came off that board feeling relatively good and I gave it everything in that run but yeah it was just so up and down at that three-hour, four-hour mark. You go from feeling really good to really bad, it is just a roller coaster."
"Poole led through transition and chose to not stop and put on shoes. A decision that may have cost him in the long run.
"I am not exactly sure if it was the best decision, I heard that I had about had 15 seconds on Bevi so I thought that if I don't put my shoes on, that I could maybe stretch that out to 25-30 seconds and maybe that is enough to mentally break him and I could hang in there, but it didn't really work like that.
"He put his shoes on and he was pretty quick on the sand and about 2km in I was wishing that I did put them on but in the same respect, I thought that if I could hang with him, until that sprint finish at the end, with that soft sand coming in that last 200m, it would be pretty bad with the shoes. I thought if I could stay with him until then I would be a chance, but he kicked at around 2km and I didn't have anything left."
#RaceUpdate: This was the move that made @matt_bevilacqua the 2019 #CoolieGold Champion! Pushed all the way by @matt_poole1
What a race! Also 1st rnd of @NutriGrainAU #IronSeries pic.twitter.com/Jdac2p7t2S

— Surf Life Saving Australia (@SLSAustralia) October 13, 2019
"There really was an element of the unknown for me to come away with a second and set up my summer really well for a big next 4 rounds of racing. It is a really good start for sure."
Complete Results for all events can be found here >>>  https://www.multisportaustralia.com.au/races/CGG-2019/events/1/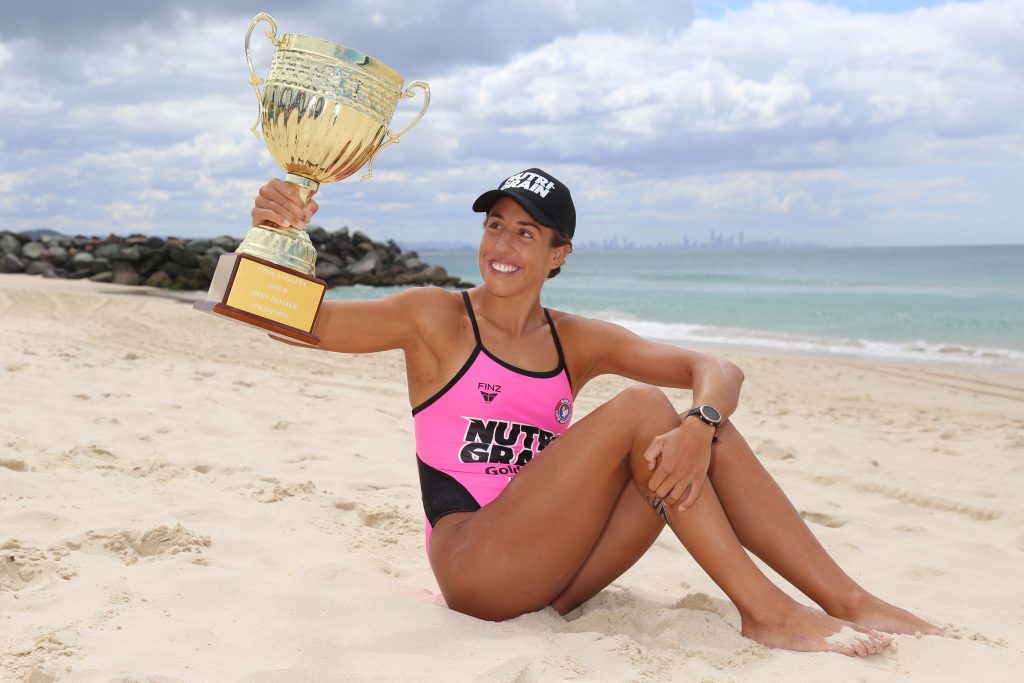 Rogers wins dramatic sprint finish
The women's race was even more dramatic with the five favourites: Georgia Miller, Courtney Hancock, Jemma Smith, Lana Rogers and Danielle McKenzie, all coming off the board and into the run, within reach of each other. And the winner wasn't assured until the final 50 metres!
McKenzie (Northcliffe SLSC) pushed the pace in the ski early with Smith (Umina) and Hancock (Northcliffe) sitting just back. Smith got a run to the beach and led by 15 seconds over McKenzie and Hancock a further 15 seconds back.
In the 3.5km swim, defending champion Miller and Rogers made their moves. Miller had a huge swim and took the lead into the board leg. As athletes looked like getting dropped on the board they kept fighting back and all five were still together after almost fours hours of racing.
Local favourite Hancock chose to not stop and put on shoes and led the 7.1km run early, before Rogers from Noosa SLSC and Smith from Umina SLSC, took the lead and started an incredible battle.
RaceUpdate: Halfway thru 7.1km run Lana Rogers has taken the lead back from Jemma Smith. Courtney Hancock hanging on in 3rd. #CoolieGold @NutriGrainAU #IronSeries pic.twitter.com/3wrAlCt6G3

— Surf Life Saving Australia (@SLSAustralia) October 13, 2019
Rogers, 23, almost stopped twice on the run, while leading, but kept finding more. In the final 100 metre sprint on the soft sand of Coolangatta Beach, she lifted again and passed Smith only 50 metres from the finish. Hancock, who has won the title three times before, hung on for the bronze.
For Noosa based Rogers, it came down to a tactical decision to kick off the shoes a few kilometres out to give her the best chance of taking the title.
"Honestly, that last two ks (kilometres), I wasn't getting through that at all. I had second in my mind…. I was looking where Courtney (Hancock) and Danielle McKenzie were.
"There was a guy who was telling me memories of last year saying, "take your shoes off, take your shoes off," as soon as I turned that corner I did and got the win… I can't believe it.
"Through that dry sand I wasn't going to get through that with shoes on, it's just so much easier running in bare feet. I managed to get that win and chase down Jemma.
"It's the toughest and most gruelling event Surf Life Saving has, as an athlete there are three boxes you want to tick, the Nutri-Grain Series, Coolangatta Gold and Australian Ironwoman champion… I've managed to do two and I have a lot longer in the Series, there is one more to tick," said an elated Rogers.
Smith got a lot of confidence out of her performance.
"That was absolutely amazing," Smith told waiting media. "I have never done the race before and didn't know what to expect.
"To come so close and have a great race with the girls is great. Full credit to Lana she had the legs to finish it off. It was an absolute grind; I love tough racing and I will certainly do the race again in the future."
Hancock, who was chasing a record fourth victory, will also take confidence for the season ahead, as she takes another Coolie Gold medal and sits third on the Nutri-Grain Series after Round One. Georgia Miller finished 45 seconds behind Hancock for fourth and McKenzie was a further 15 seconds back.
Complete Results for all events can be found here >>>  https://www.multisportaustralia.com.au/races/CGG-2019/events/1/