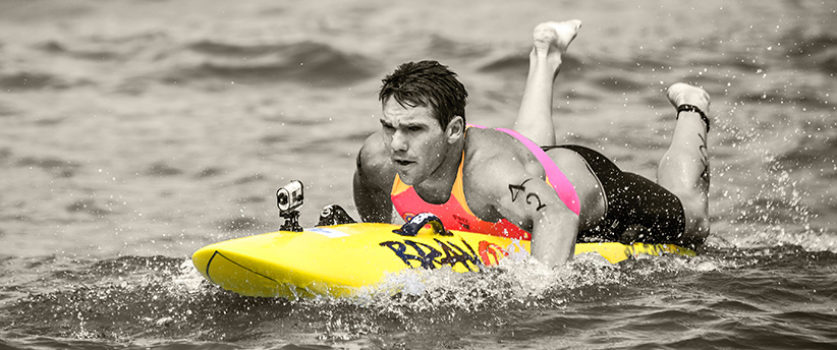 For an hour, more than just your ability to board paddle will be tested. Your work ethic, your preparation and your willingness to suffer will be exposed during the crawl to Currumbin.
This is without a doubt the hardest period of the race – you're often two and a half hours into the race, in an uncomfortable position on the board, pushing against the chop and there is no one you can count on except yourself.
Things to remember:
GET IT IN – the transition between swim and board is very short, but make sure you once again get your fluid and nutrition in. Every little bit helps especially as the day starts to heat up.
ATTACK THE BREAK – you'll be tired and prone to mistakes on your way through Burleigh's break. Don't cost yourself time and energy by making simple errors. Work hard through the break and then settle into a rhythm once you're past the break.
LENGTH AND HIP HEIGHT – basic technique will be tough at this point in the race, therefore it should be a focus. Try and keep your stroke length constant and ensure your hips are driving forward when paddling. Don't get sloppy.
UPS AND DOWNS – Being deep into the race you will spend more time on your stomach than in traditional board races. This is fine but don't slow yourself down by constantly switching between your knees and stomach. Set yourself a pattern (5 mins up and 5 mins down or whatever feels comfortable) and try to stick to it. So much momentum is lost by constantly changing positions.
UPS AND DOWNS #2 – The only certainty during this leg is that you're going to feel good at times and then bad at times. It'll ebb and flow like riding swell. Take advantage of the good times while you can and always remember the tough times won't last forever. When it does get hard. Reset, refocus and go back to the basics, a metaphor for life 😊.
Up next, onto the run.
Josh Minogue is the 2014 Coolangatta Gold winner.