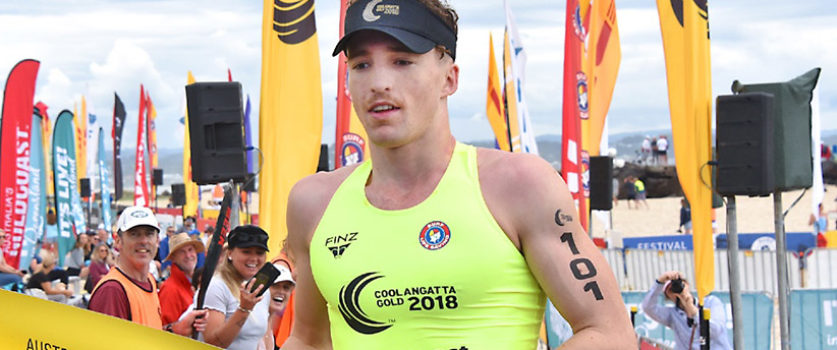 Thomas Gallagher is getting a liking for the Gold Coast. The 19-year-old from the City of Perth club raced to a commanding victory in the 2018 Coolangatta Gold open short course event today.
The West Australian looked perfectly at home in the south-east Queensland conditions and with good reason as he will be moving across the continent to join powerhouse club Currumbin Beach Vikings in the new year.
He led from start to finish to win the 21km race in two hours 19 minutes 29 seconds from Zak Van Dartel (Terrigal, 2:27.50) and Chris Boult (Kurrawa, 2:28.01).
The open women's race was much closer with Emily Doyle (Newport, 2:36.55) winning from Jazmin Lewsam (Southport, 2:37.58) and Kiera Albertsen (City of Perth, 2:45.06).
Gallagher, who suffers from cerebral palsy and pancreatitis, was first out of the water after the opening 10.5km ski leg of the men's race and extended his advantage in the 2km swim, 3km board and the final 5km run.
"This was my first Coolangatta Gold so I knew if I had a good ski paddle then that would set me up," he said.
"I went into the front pack on the ski and really worked the swim (which is my main leg) because you never know what's going to happen on the board.
"I started suffering from the pancreatitis a couple of years ago and sometimes I have attacks after my races and end up in hospital, lucky I didn't have one today.
"I'm moving to Currumbin in January after spending the last couple of off-seasons training with Michael King at the Vikings, he's a good coach and it's great training with the group.
"I've loved my five years at City of Perth under the coaches there but it was time to make a move for both university and competition."
For Doyle, it was her second short course title in succession, winning the Under 19s last year, although her plans to repeat her 2017 success literally hit an obstacle in August.
"I was injured seven weeks ago after I twisted my ankle on a tree root, training at the beach, running 500s, and I couldn't walk on it…and I actually did some ligament damage," she said.
"I couldn't run or swim for three weeks and I had to withdraw from my State Championships for swimming and my running took a massive step back and I just focused on getting everything else fit.
"But it's all fine now, this was a kind of test for it.
"I raced last year and won the Under-19s with hardly any training. I only did a few sessions. I've got such a busy life at home, I'm working three jobs, training and doing Year 12 at Davidson High.
"I just went in it last year hoping for the best and this year I came back for the opens thinking maybe I can have a real crack with the big girls and today was really good."
Doyle's race didn't get off to the best start and she finished the ski leg in eighth place, but her swimming skills soon turned around the deficit and opened up a lead.
A former Under-14 national youth surf race and teams champion while competing at Manly, she trains in the pool at Warringah Aquatic under Tim Lane and used her swimming ability to devastating effect today.
"I've been a swimmer all my life and I've come from an endurance background," she said.
"I have run the 14km City to Surf since I was seven years old.
"In the swim it was like a swim-down for me, I ran in tired and came out fresh.
"As soon as that swim was over I knew it was my time to put my head down and get going."
Men's Under-19 winner Joe Collins recorded the fastest time of the day, finishing the course one second quicker than Gallagher in 2:19.29 and ahead of Charlie Verco (2:21.52) and Zach Morris (2:22.44).
Grace Harris (Torquay 2:39.50) was the fastest in the under-19 category with Kiera Warn (2:41.36) second and Emily Eaves (2:42.58) third.
In the 35-49 years age group, Pierre Tapper crossed the line holding the hand of his young daughter Grace to win the gold medal in 2:32.53, ahead of Roger Souter (2:41.30) and Jason Foye (2:43.06).
The women's winner was Regina Jensen in an impressive 2:42.44 ahead of Raelene Meyers (3:04.12) and Amanda Elson (3:12.08).
Surfers Paradise veteran Craig Chapman cleared out on his rivals for a big win in the Over-50 age group, finishing in 2:33.57 with Craig Sly second in 2:39.15 and Kim Harker third (2:42.59).
Outstanding Masters competitor Alison Pegg (3:00.40) won the Over-50 women's race by more than 40 minutes from Caroline Webster (3:42.38) and Hilary Ingle (3:43.20).
Meanwhile, some of the top surf sports stars showed competitiveness more commonly seen on the rugby league field in the State of Origin Teams Challenge.
The New South Wales relay team of Kendrick Louis (board), Matt Poole (swim), Mackenzie Hynard (run) and Hayden White (ski) took on Queensland's Shannon Eckstein, Caine Eckstein, Luke Cuff and Cory Hill as a fundraiser to help ironwoman competitor Jess Collins, who was left paralysed after a surfing accident on the Gold Coast in May.
The Blues had the better of today's race, finishing in 2:10.12, three minutes ahead of the Maroons, but the challenge will continue today with the same teams racing in a different order over the 41.8km long course with their combined times over the two days deciding the winning team.
"As much as we are racing against each other we are racing together for Jess," said Currumbin-based NSW ski paddler Hayden White, who have the tough task of running against five-time Coolangatta Gold winner Caine Eckstein tomorrow.
Surfers Paradise star Ali Day will be out to break the record he shares with Eckstein when he starts a hot favourite to win his sixth Coolangatta Gold tomorrow, while Australian Ironwoman champion Lana Rogers (Noosa Heads) will have to beat a strong field if she is to take out her first win in the Gold.
Taking on Rogers, will be the two placegetters from last year's race, Ali Britton (Kurrawa) and Danielle McKenzie (Northcliffe) as well as McKenzie's clubmate Georgia Miller, who placed fourth in 2017.