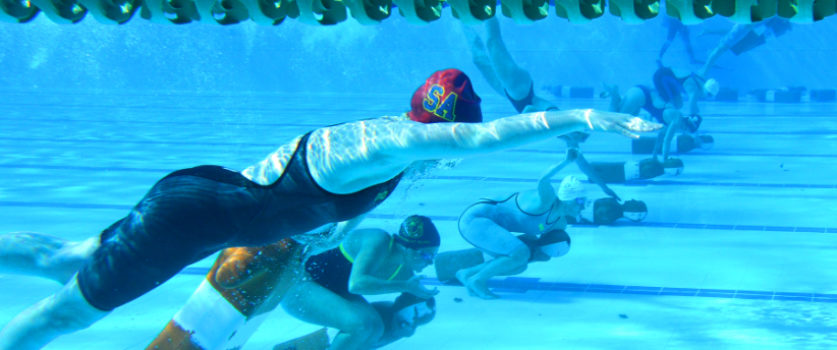 Twenty-four Australian lifesaving records and two World records were broken on day two of the 2019 Pool Rescue Championships at the Gold Coast Aquatic Centre.
The Currumbin Beach Vikings SLSC set the tone of day as they walked away with four gold medals in the first four events.
Matthew Davis started off with the first gold of the day and an Australia lifesaving record in the Open 100 Metre Manikin Tow with Fins.
Natalie Peat, Prue Davies and Maddison Kidd made an even bigger splash for Currumbin as they dominated the Open Women's 100 Metre Manikin Tow with Fins, taking home gold, silver and bronze respectively.
But it didn't stop there for Currumbin who not only took home four gold medals in the 200 M Super Lifesaver event but also set four new Australian records.
14-year-old Lily Nicolson took out her age group with a time of 2:40.14, while Jacob Loughan set a new record of 2:11.23 in the 17-18-year-old division.
Matthew Davis got his second of three gold medals on day two in the Open Male Super Lifesaver where he set a new Aussie record of 2:08.89.
Meanwhile Prue Davies was just shy of breaking her 2:21.64 Open Female Super Lifesaver World Record but set a new Australian record of 2:22.36.
Tweed Heads & Coolangatta SLSC grabbed two World records in the 100 Metre Manikin Tow w/ Fins, with Adam Moore setting the first  world record in the 40-44 years at 58.01, while 70-year-old Shirley Temp set the second in the Over 70 age group at 1:46.85.
After day two Northcliff (Qld), Currumbin (Qld) and Terrigal (NSW) are the top three teams to beat as they sit on top of the overall point score ladder.
The 2019 Australian Pool Rescue Championships continues on Sunday 11 August.
World record broken on Saturday 10 August (day two):
Adam Moore (41) Tweed Heads and Coolangatta SLSC Men's 40-44 Metre Manikin w/ Fins – 58.01
Shirley Kemp (70) Tweed Heads and Coolangatta SLSC Women's Over 70 100 Metre Manikin w/ Fins – 1:46.85
Australian records broken on Saturday 10 August (day two):
Matthew Davis (22) Currumbin Beach SLSC  Men's Open 100 Metre Manikin Tow w/ Fins – 52.06
Levi Ata (17) Currumbin Beach  Men's 17-18  100 Metre Manikin Tow w/ Fins – 54.09
Tahlia Dilkes (16) BMD Northcliffe  Women's 15-16  100 Metre Manikin Tow w/ Fins – 1:02.06
Alyssa Bailey (13) Mermaid Beach Women's 13  100 Metre Manikin Tow w/ Fins – 1:07.77
Lisa Fergusson (35) Tweed Heads &Coolangatta SLSC Women's 35-39  100 Metre Manikin Tow w/ Fins – 1:07.06
Paul Lemmon (51) Terrigal SLSC Men's 50-54  100 Metre Manikin Tow w/ Fins – 1:04.10
Stephen Fry (61) BMD Northcliffe Men's 60-64  100 Metre Manikin Tow w/ Fins – 1:12.52
Lisa Critoph (60) Terrigal SLSC  Women's 60-64  100 Metre Manikin Tow w/ Fins – 1:23.52
Peter Allison (71) Kurrawa SLSC Men's Over 70  100 Metre Manikin Tow w/ Fins – 1:30.71
Lily Nicolson (14) Currumbin Beach SLSC Women's 14  200 Metre Super Lifesaver – 2:40.14
Jacob Loughan (18) Currumbin Beach SLSC Men's 17-18  200 Metre Super Lifesaver – 2:11.23
Matthew Davis (22) Currumbin Beach SLSC Men's  Open 200 Metre Super lifesaver – 2:08.89
Prue Davies (21) Currumbin Beach SLS Women's  Open 200 M Super Lifesaver – 2:22.36
Alex Walker (11) Terrigal SLSC Men's 11 25 Metre Brick Carry – 34.31
Daniel Beales (12) Trigg Island SLSC Men's 12   25 Metre Brick Carry – 31.93
Charlie Walker (13) Terrigal SLSC Men's 13 35 Metre Manikin Carry – 32.79
Shirley Kemp (70) Tweed Heads & Coolangatta SLSC Women's Over 70 50 Metre Manikin Carry – 1:11.64
Lisa Critoph (60) Terrigal SLSC Women's  60-64 50 Metre Manikin Carry – 55.31
Barbara Roker (57) Alexandra Headland SLSC Women's 55-59  50 Metre Manikin Carry – 57.22
Rick Van Kempen (52) Bondi SBLSC- Men's 50-54  50 Metre Manikin Carry – 37.39
Daniel Kinglsey (40) Shelly Beach SLSC Men's 40-44  50 Metre Manikin Carry – 35.23
Cathryn Rayward (40) Kurrawa SLSC Women's 40-44  50 Metre Manikin Carry – 41.84
Matthew Magnussen (14) Maroochydore SLSC Men's 14  50 Metre Manikin Carry – 34.09
William Taylor (16) BMD Northcliffe Men's 15-16 50  Metre Manikin Carry – 30.84