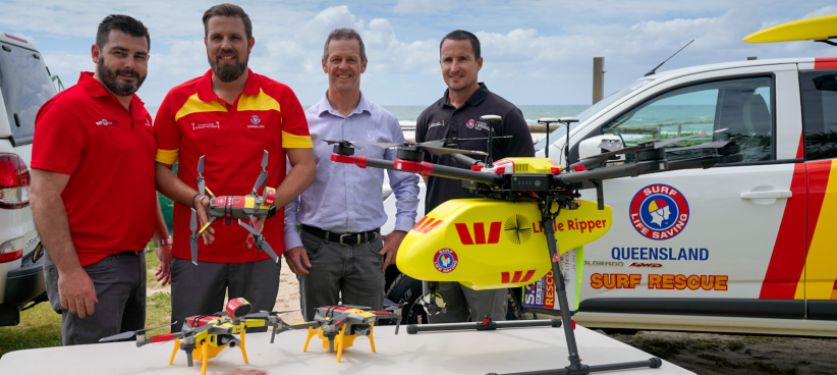 'Eyes in the sky' highlights rip current dangers for Surf Safety
According to the 2019 National Coastal Safety Report, 190 lives were lost on Australia's coastline last summer. This number the Westpac Life Saver Rescue Drone program and its partners – The Ripper Group and Surf Life Saving Australia – hopes to help drastically reduce through the ongoing innovation of drone technology and training for surf lifesavers and lifeguards. Sea Marker Dye is one such innovation that could drastically help.
Sea Marker Dye are all-natural, ecofriendly crystals that upon impact with the water, activate into highly visible colour. Deployed from a drone equipped with an onboard video camera, it is a cutting-edge development that will give a clear 'eyes in the sky' view to the pilot and lifesavers on the beach, to more easily identify rip currents.
The Ripper Group have developed a custom deployment system which can attach to the widely-used Mavic drones. This engineering breakthrough will make drone-deployed sea marker dye more accessible for life saving entities to employ following a successful trial period.
Jane Watts, Westpac's General Manager, said Westpac is proud to continue to play a role in the evolution of search and rescue services to help keep Australians and visitors safe.
"Since partnering with The Ripper Group in 2016, we're proud to have been at the forefront of drone technology innovation."
An extension of Westpac's partnership with SLSA saw the creation of the Westpac Life Saver Rescue Drone program in 2018, which has played a crucial role in helping bring drone technology and innovation to beaches around the country.
"New innovations as developed by The Ripper Group, increase the capabilities of frontline surf lifesavers in identifying and addressing hazards. Programs like the Sea Dye system will be valuable in both identifying rip currents and assisting with off-shore water searches" said SLSA CEO Adam Weir.
CEO of The Ripper Group, Ben Trollope said "Thanks to Westpac's long-standing investment in aerial search and rescue, The Ripper Group's partnership with Westpac supports the evolution of drone rescue innovation and the potential to save lives in Australia."
SLSQ have two Mavic drones and two sea marker dye deployments systems. SLSA have also recently ordered two Mavic drones and two sea marker dye deployments systems. Pilot training and trial 'flights' are due to get underway in QLD in a matter of weeks with positive outcomes expected.