Forsyth settles the score and claims gold in the beach flags
Elizabeth Forsyth (Currumbin) claimed one back over rival Bree Masters (Kurrawa) winning gold in the open female beach flags.
Defending Champion Forsyth was keen to level the score after Masters won Friday's Beach Sprint.
"I was fairly happy last night, I thought it went well so easy to focus (tonight), I knew what I had to do today.
"My coach and I spoke about how hard it is to go back to back, so we just made sure to never lose focus and motivation."
Forsyth and Masters progressed through the rounds with ease, setting up an exciting finish.
"I was turning on my bad size so knew I had to have a tight turn. Bree is so fast, she ran with me the whole way up the beach, she did so well," she said.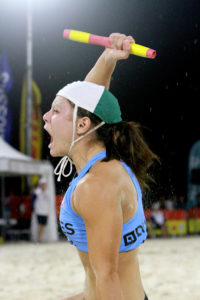 It was a case of master verses apprentice in the open male final as Blake Drysdale (Newport) went head to head against Sam Zustovic (Mollymook).
The young gun from the NSW South Coast was riding high after he won the U17 male gold. In the end experience won out, as Drysdale claimed the gold.
"Sam was on fire tonight he killed the U17 sprint and flags and showed us all up," Drysdale said.
"Such a good feeling., I love these carnivals they're the pinnacle of surf lifesaving," he said.
It was gold and bronze to North Cronulla in the U19 female final with sisters Alexandra and Leah Rampoldi sharing the spoils.  Payton Williams (Mollymook) upset the sisters' perfect one-two finish by clinching the silver medal.
"We train with each other a lot, get stronger each year," Alexandra said.
"So happy, just coming away with the win is amazing," she said.
The Rampoldi family will be aiming for a trifecta when they return to the Aussies arena in 2020.
"Our sister Emily is going to come back next year so hopefully she'll be out there too."
Brock Scrivener (Mollymook) got the gold in the U19 male flags, the emerging sprinter attributing his success to his stint in the Ocean 6 series.
"I've done all Ocean 6 events this year and when you get to the Opens it makes you stronger, so I'm looking forward to Opens next season," he said.
U17 female flags advanced to a run-off after contact between the two finalists, but the result was unchanged in the end after Mia McWilliam (Alexandra Headland) grabbed the flag for the second time ahead of Isabella Walker (Cronulla). Cahrizma Macdonald-Cass (Cabarita) won the bronze.
Sam Zustovich (Mollymook) won the U17 male final before stepping out in the Open Male final.
Mollymook had secured the U17 male final before the final sprint after Zustovich's team mate Jack Bridges made it through to the final two.
For full Aussies results <click here>