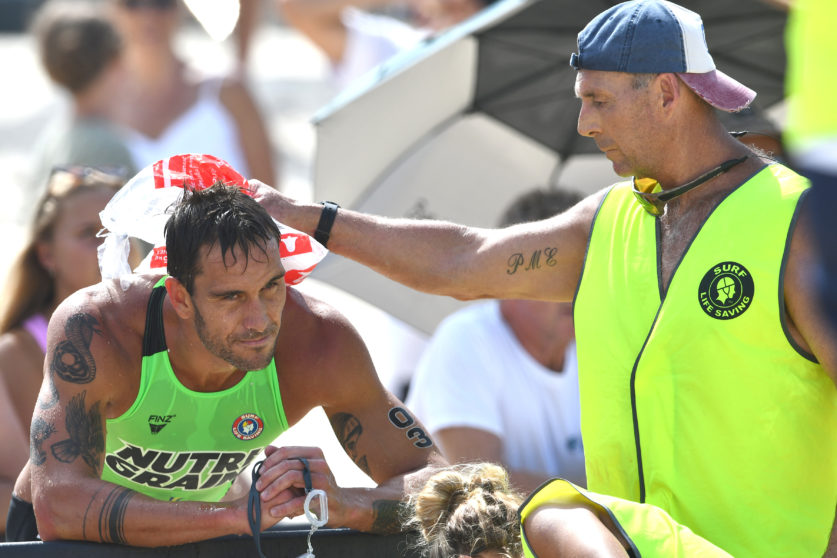 From the hospital bed to the surf: Nutri-Grain IronMan Poole defies doctors
24 hours after being released from hospital, Ironman Matt Poole wasn't prepared to give up his Series lead, taking to the line for round four of the Nutri-Grain IronMan Series at Surfers Paradise today.
After undergoing emergency surgery on Thursday due to a leg infection, Poole was desperate to give himself every possible chance to maintain his spot on top of the leaderboard, competing in four grueling races battling the Gold Coast heat.
While the Doctor's and SLSA officials gave him the all clear, Poole admitted doctors said it was procedure that usually requires a two weeks layoff.
"It has been a hell of a week … on Monday I got a bit of an ingrown hair style of a thing and through the course of 48 hours it just really blew up, my whole leg and I was admitted into hospital overnight for IV antibiotics,' said Poole.
"Twenty-four hours after that it got worse again and they kept me in overnight and a second lot of IV antibiotics… the next day it had swollen up right into my glands and down into my ankle so the orthopedic surgeon took me straight in for surgery."
Poole pleaded with doctors to do everything possible to give him a chance to starting for today's crucial race.
"He (the doctor) didn't tell me that I couldn't do it, he just said that you are crazy. To put things in perspective, the quickest turn around prior to this that he has ever seen was a surgery that he performed on an NRL Titans player and he was back on the field playing in 14 days…. so to be running, swimming, board paddling, 48 hours after surgery, I don't really know what to think of it," he said.
The 31 year old verteran of the Nutri-Grain IronMan Series has spent more than a decade trying to claim the illustrious Series crown.
Today was undoubtedly one of the toughest days of his career, not only competing with nine stitches in his knee, but mentally exhausted from the experience.
"When it first happened, I thought I was no chance of racing but I just tried to stay positive and give myself every opportunity.
"Today and I just thought it is going to hurt but I would kill myself if I didn't try and have a crack so I lined up and tried to put it all out there and just hoping for as much luck.
"I almost pulled it off when I went into that last race sixth and if I could of held onto that last race I would have been stoked with that result today. But I think the whole week just caught up with me and I just fell apart towards the end of the IronMan.
"This sport and being an athlete is my world, this is my whole life … so to be on top of the Nutri-Grain IronMan Series is something that I have spent my whole career trying to do. I was racing so well, and then to have my whole world flipped on its head and end up on the surgeons table 48 hours ago it really is hard to take… mentally and physically it is pretty draining."
Poole was heading from the beach back to the hospital to get things checked out.
Despite his 16th place finish today, Poole still sits in third place overall with four weeks until the Final he is still within a shot of taking the overall crown.