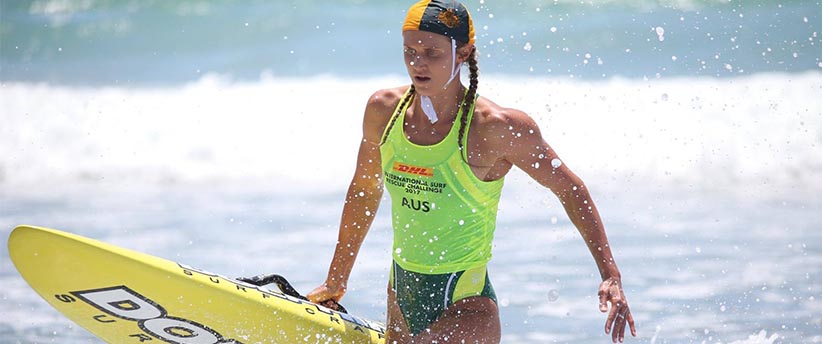 Harriet Brown of BMD Northcliffe SLSC has been selected to lead the charge as Captain of the Australian Lifesaving Team ahead of the Lifesaving World Championships 2018 (#LWC2018) to be held in Adelaide next month.
Talking about her appointment Brown said it a was a huge honour to be named Captain.
"This week's camp has brought together so many amazing athletes," Brown said.
"It's a great team and I am really excited about working and competing alongside everyone to take on the rest of the world."
The team will regroup in just a few weeks to head to Glenelg, South Australia.
Alongside Brown, as part of the 12-person team is new club teammate and 2018 Coolangatta Gold Champion Georgia Miller (BMD Northcliffe),  2018 Nutri-Grain IronMan Series Champion and reigning Molokai Board Riding Champion Matt Bevilacqua (Kurrawa), and 2018 Australian Ironman Champion and SLSA Surf Sports Athlete of the Year Kendrick Louis (Manly).
In the pool, the team will be headed by current World Record holders Matt Davis (Currumbin) and Prue Davies (Currumbin/Queensland RLS) who will be joined by Sam Bell (Maroochydore/Queensland RLS) taking part in his 3rd World Championships along with debutant Jake Smith (Trigg Island/ Western Australia RLS).
Australian Record holders Chelsea Gillett (Currumbin) and Mariah Jones (Tweed Heads & Coolangatta/Queensland RLS) also make up the team following extremely strong seasons across lifesaving and Swimming Australia Trials earlier in the year.
Elizabeth Forsyth (Currumbin) took out the coveted 2018 Stawell Gift before returning to the sand a few weeks later to claim a historic Australian title in both the beach sprints and beach flags at the 2018 Aussies. Forsyth will be joined on the beach by 4-time Australian Beach Sprint Champion Jackson Symonds (Sorrento, WA).
At the close of the camp National Coach, Kurt Wilson was delighted to have so many athletes to get together to work on all aspects of the lifesaving events.
"Culturally the team came together and worked so well whether it was on the beach, the pool or in the ocean," Wilson said.
"I think we were able to finish camp with great optimism and synergy across the group and I am honoured to be able to work with such a great group of people leading into the Lifesaving World Championships."
The National Teams competition at Life Saving World Championships begins Wednesday 21st November.
Team Members:
Sam Bell, Maroochydore SLSC, Queensland RLS
Matt Bevilacqua, Kurrawa SLSC
Harriet Brown, BMD Northcliffe
Prue Davies, Currumbin SLSC, Queensland RLS
Matt Davis, Currumbin SLSC
Elizabeth Forsyth, Currumbin SLSC
Chelsea Gillett, Currumbin SLSC, Queensland RLS
Mariah Jones, Tweed Heads & Coolangatta SLSC, Queensland RLS
Kendrick Louis, Manly SLSC
Georgia Miller, BMD Northcliffe SLSC
Jake Smith, Trigg Island SLSC
Jackson Symonds, Sorrento SLSC (WA)
Team Coaches & Management:
Coach – Kurt Wilson
Assistant Coach – Shannon Eckstein
Assistant Coach – Martin Lynch
Assistant Coach – Andrew Bowden
Team Manager – Garry Mensforth
Assistant Team Manager – Kristy Ellis
Medical Advisor – Nick Marshall
For more information contact: Anna Wallin, SLSA Media and PR Manager at awallin@slsa.asn.au or mobile 0408 832 999