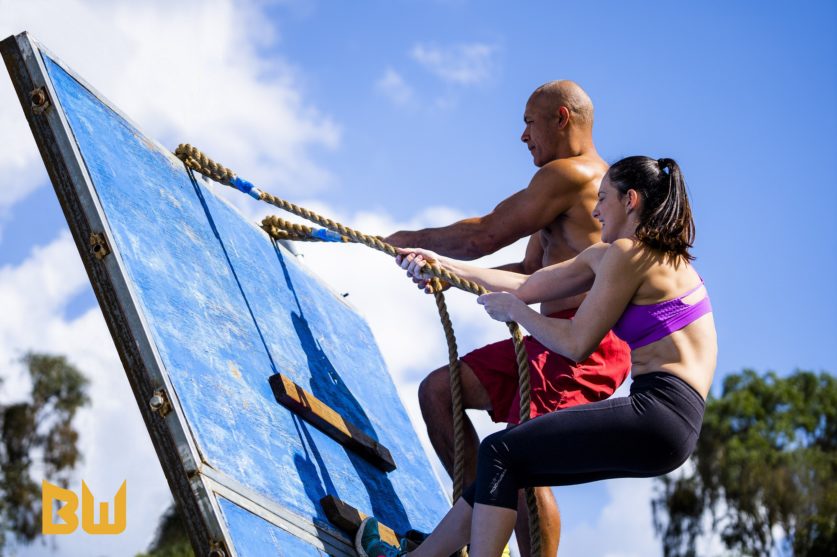 Beach Warrior is a fun, new, mass participation event, open to members and the public alike, held at our favourite place, the beach. The inaugural Beach Warrior event will be held at Coolangatta on the same weekend as the Gold.
Wayne Druery, SLSA Sports Manger explains what it's all about.
Where did the idea for Beach Warrior come from?
In 2015, SLSA was tasked with conducting a comprehensive national Sport Review. The wide-ranging review identified a number of changes to the face of surf sports, including an increase in the general public using the beach for recreation and fitness training.  The Sports Review asked the question, is there a role for surf clubs to capitalise on this trend, to strengthen and extend their role and relevance within the local community.
At the same time, we've seen a rapid rise in the popularity of "fun + challenge" events such as Tough Mudder, which are more about participation than competition, and combining fun with pushing yourself physically. Beach Warrior is a way to open our doors to non-members and have a bit of fun.
What is Beach Warrior?
Beach Warrior is a 4.5 kilometre long obstacle course run on grass, sand and at the water's edge featuring 25 varied but challenging obstacles. Competitors will get wet but there's no swimming and no craft to paddle so you don't need any special skills or training to take part.
Beach Warrior obstacles include the curiously-named Mega Cargo Climb, Hurdle Highway, Pyramid Alley, and the Inflatable Monster. A more complete list of obstacles can be found at www.beachwarrior.com.au
Who can take part in Beach Warrior?
The objective of Beach Warrior is to engage with the local community, so entry is open to the general public, not just SLS members. Having said that, I'm sure that a lot of our members will want to take part as it promises to be a lot of fun. There is a minimum age of 12 because of the scale of some of the obstacles.
Where will Beach Warrior be held?
The course will start in front of Coolangatta SLSC, run south through Queen Elizabeth Park to the end of the beach before zig-zagging up and back on the sand and then heading over the groyne to Kirra beach where the course turns and head for home. The finish shares the finishing chute set up for the Coolangatta Gold so everyone can feel like a hero as they cross the finish line.
When will Beach Warrior be held?
The inaugural Beach Warrior will be held on the Saturday 12th October, between 1pm and 5pm. Competitors will be given a specific start time once they complete registration.
We're hoping that the addition of this fun event will add an extra-dimension to the Coolangatta Gold weekend and a reason for more people to come down and watch all the race action.
How do I enter?
Entries have just opened at www.beachwarrior.com.au. To ensure that we can run a safe event, places are limited to 1,000 entrants, so get in early to reserve your spot.
Competitors can compete either time or untimed but will start the race in random waves to try and avoid bottlenecks. You can enter as an individual, but if you enter as part of a 4 person team or a group you will race in the same wave.
Why is SLSA introducing Beach Warrior?
In addition to building connections between Surf Life Saving and local beach communities, Beach Warrior has been designed so that interested SLS State entities, branches or clubs can host a Beach Warrior event of their own, for fun as well as a fundraiser. All of the event obstacles have been designed to be easy to set up and pull down and they fit into a single 20-foot container so it can be easily shipped and set up at any beach around Australia.
SLSA is committed to running Beach Warrior, Coolangatta as an annual event, but it would be wonderful to see Beach Warrior events being run across the country to engage the local community and also raise funds for your local SLSC. Clubs or branches interested to find out more should contact Julien Palmer at jpalmer@slsa.asn.au.