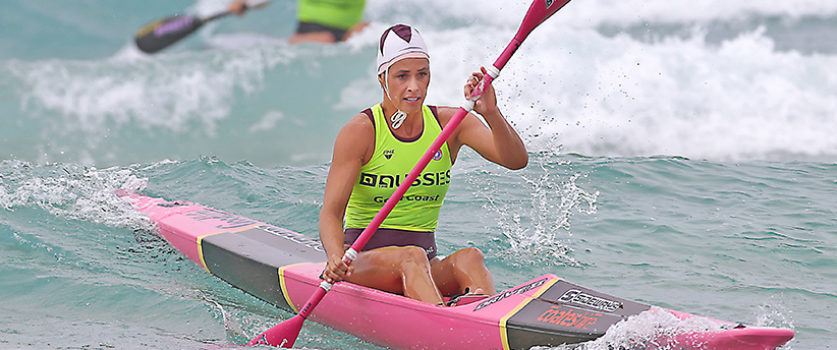 Ironwoman finalists confirmed for blockbuster Aussies Sunday finals
The stage is set for a blockbuster finish to Aussies 2019, with the finalists for the Ironwoman confirmed after four days of racing.
Saturday's Ironwoman semi final saw all the usual suspects secure a spot in today's final, with dual Australian Ironwoman champion Courtney Hancock, poised to claim her third crown and equal legendary Ironwoman Karla Gilbert's record.
Hancock, a Kellogg's Nutri-Grain Ironman and Coolangatta Gold Champion, led her semi from the start to book her spot in the final.
"I feel so relieved; I was so nervous as I'm sure were all the other girls competing in both those two semis," Hancock said.
"I'm really excited to be part of that Aussies Ironwoman final, it's the one that everyone wants to get to and there are only 16 people who can get there, so I feel very lucky.
"I wanted a good start on the board and secure a lead and be up with the front runners and I managed to do that and so in the swim I managed to set the pace and then able to get that little wave in the end.
"Here at Kirra, even though you don't have the big swell, you can defiantly have some girls coming from behind and get you at the end," she said.
Fellow Northcliffe team mate, Hannah Scully, managed to jag a good line out to the cans in the ski leg which set her up nicely leading into the final swim leg and bring home a win the second semi-final.
"It wasn't too bad, the start was a bit iffy, but a few of us got out and Georgia (Miller) and I came down on the same wave in the board.
"And then where my ski was I was lucky enough to get on and just get over a wave that got everyone else, coming in on the ski the gutters hold up the waves so you just have to keep paddling.
"This race, the last semi, it's the people up front from the very start who seem to be able to get those one percenters and their coming in first every time," she said.
The Ironman and Ironwoman finals will headline Sunday's Aussies 2019 action packed finals, culminating nine days of competition, across three beaches with more than 6,200 competitors.
The Ironman and Ironwoman finals will get underway from 12:00noon at Broadbeach SLSC.
You can watch all the action live at sls.com.au/aussies
For full Aussies 2019 results <click here>