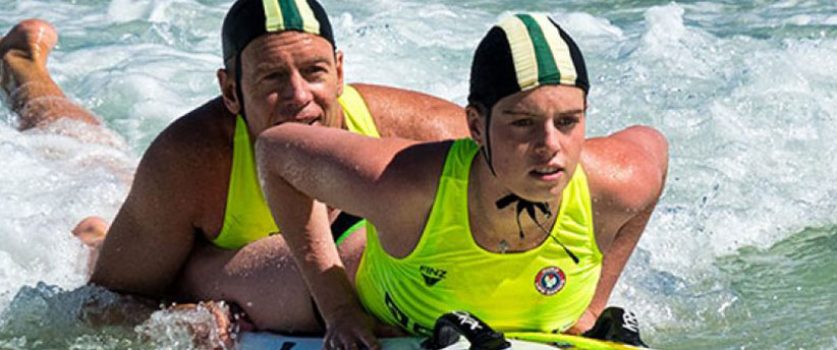 Keeping up with the Joneses has a whole new meaning down at Scarboro Surf Life Saving Club in WA these days – especially in the countdown to this year's Aussies.
There will be three members of the Jones family, continuing the extraordinary traditions started back in Merewether by family patriarch Evan Jones back in 1960.
Evan, who recently received his 70-year-old Service Medal from SLSA and continues to take a keen interest in his Jones clan, contested his first Aussies 58 years ago.
"Dad joined the club in 1947 and has been actively involved ever since – in fact he still gets down to the club swim every Sunday," said son Warren, club coach and WA Masters gold medallist.
"My mother Bryce Jones nee Anderson is 87 and was a member of Cottesloe SLSC's women's movement, competing from 1944 and 1960 before joining Scarboro and gaining her bronze medallion in 1989.
"She still loves coming down to watch the surf carnivals.'
And Evan and Bryce will have plenty to cheer about when over 5000 competitors stream into their beloved Scarborough for this year's Australian Surf Lifesaving Championships – the Aussies 2018.
As well as Warren, their grand-daughters Hannah and Phoebe will be front and centre as they carry on the family tradition.
Hannah Jones' opponents have certainly struggled to keep up with her in recent years.
She has two Aussies gold medals on display in the family home, for the under 14 and under 15 2km beach run in 2016 and 2017 respectively, and now she takes on the under 17 2km beach run, the U17 female surf belt and U17 female surf teams race.
At the recent WA State Championships, Hannah was 1st in the U17 female 2km beach run and also won silver in the U17 female surf belt race.
"I like the run but I really enjoy doing all the events," said Hannah.
She will be joined by younger sister Phoebe who will be making her Aussies debut on her home beach in the U14 2km beach run and U14 board race.
Dad Warren is certainly no slouch either and revelled in the conditions at the WA State Championships winning four gold, two silver and a bronze in the 50-54 Age Group – gold in the  surf race, rescue tube, board race and surf teams; silver in the double ski and board rescue and bronze in the board relay.
We'll try and keep up with the Joneses ourselves, if we can, during the 2018 Australian Surf Life Saving Championships between April 14 and April 22 on Scarborough Beach.