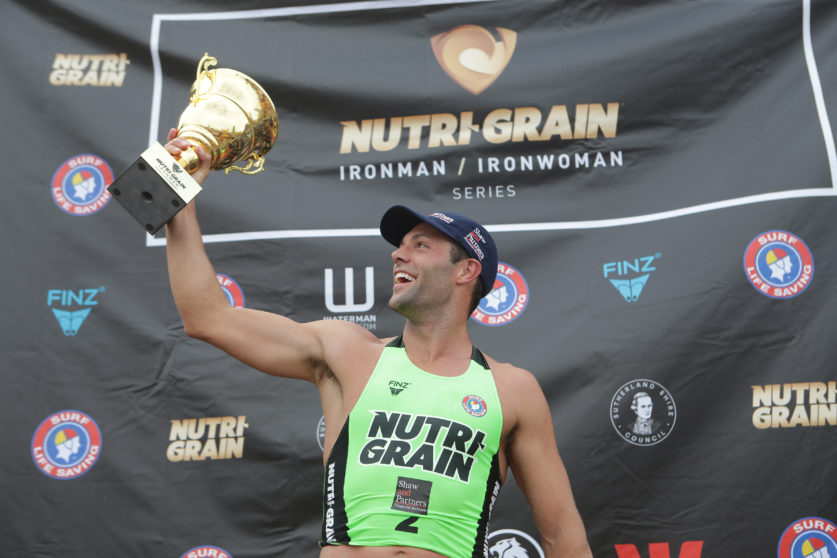 Manly IronMan Louis takes Nutri-Grain IronMan Series Crown After Tough Final
Manly IronMan Kendrick Louis has tacken out the Nutri-Grain IronMan Series after a thrilling final at North Cronulla which produced plenty of thrills and spills.
It's been more than a decade in the making for Louis who is the second oldest in the Nutri-Grain IronMan Series and despite not finishing on the podium, a fourth place today was enough to secure him his first ever Series crown.
Louis had a secret weapon in his corner for the final, with multiple IronMan Champion and Olympic open water swimmer Ky Hurst, his handler for today's do or die event.
"He knew when it was time to go and when it was time to sit back and just having that experience in my corner today was invaluable. He kept me calm," said Louis.
"I knew I'd done the work, I think when you turn up to something like this and you're in a battle with four or five guys it's hard to not let it get to your head," he said.
The 29-year-old used the swim legs to make his move on the field.
"But waves play a huge part in this sport and at the end of the day guys come from behind and stay calm it means you're in a good headspace.
"It could have been anyone's race today. TJ Hendy and Jay Furniss set the benchmark early and they held it right the way through to the last race," he said.
Round honours went to Coolangatta Gold Champion Matt Bevilacqua who finished the season in the same fashion that he started, with a win.
"The worst thing is crossing that finish line having a bit of regret," Bevilacqua said.
"The (Coolangatta) Gold was really rough and I think I was so focussed for that and was a bit of a flat, that was terrible the last few rounds, really lost it a bit and I was very frustrated but it just feels good to race well," he said.
The 27-year-old was pushed to the finish line by a determined TJ Hendy who had led the race from the outset.
"I just put in and I was thinking sometimes it was breaking in that little weird rip section and maybe this is my day."
The round win sealed Bevilacqua's second overall in the series stakes with his Kurrawa teammate Matt Poole finishing third.