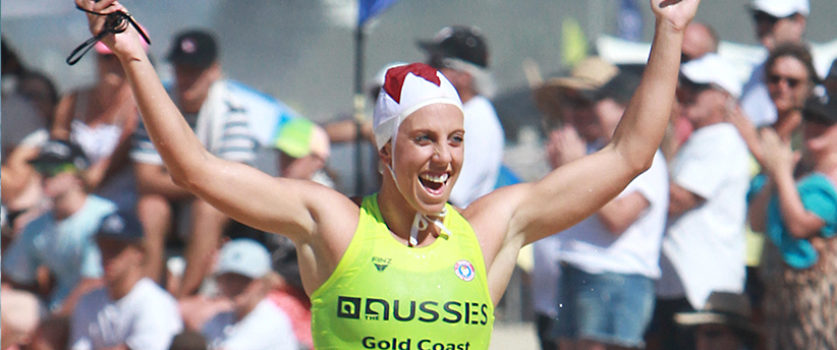 Miller wins Australian championships snagging rare Surf treble
A sensational swim leg has rewarded Georgia Miller (Northcliffe) with an Australian Ironwoman Championship.
The result caps a fairytale season for Miller who in winning has achieved a rare treble including the Nutri-Grain IronWoman and Coolangatta Gold in the same season.
Miller was always in the hunt but had to dig deep after a strong field made their intentions clear from the beginning.
The lead changed several times over the course of the race with Hannah Sculley establishing an early advantage during the board stage.
Miller was never far from the front and was one of seven in the chase after the board.
Sculley surrendered the lead when she fell off her ski early in the second stage and Miller along with Courtney Hancock took control.
Miller jagged a wave on the way through but the rest of the pack weren't far behind and the race was on.
Miller and Hancock went stroke for stroke in the swim phase and Hancock applied pressure the whole way home but it was Miller who caught the wave and raced away to victory.
"I did not think that would happen standing on the line, I was nervous looking at those conditions. I always say to the girls that I hate dumpy surf like that and we turn up and it's like that. All the training in it has paid off. I'm over the moon right now.
"I actually made a rookie error and slewed my ski on the easiest bit of the wave, I got caught up in where I was in the race and tried to bring myself back in focus for the last leg of the swim and focus for the last leg.
"I do like swimming last when I'm tired. I knew it was going to be tricky. Courtney is an amazing swimmer, I knew it was going to be pure determination, so happy for Courtney to be up there.
"An Australian title is so hard to win so this one is definitely up there.
Hancock crossed the line shortly after Miller to claim silver and there was a sprint finish for third with Brielle Cooper (Kurrawa) edging out Lizzie Welborn (North Bondi).
For full Aussies 2019 results click here