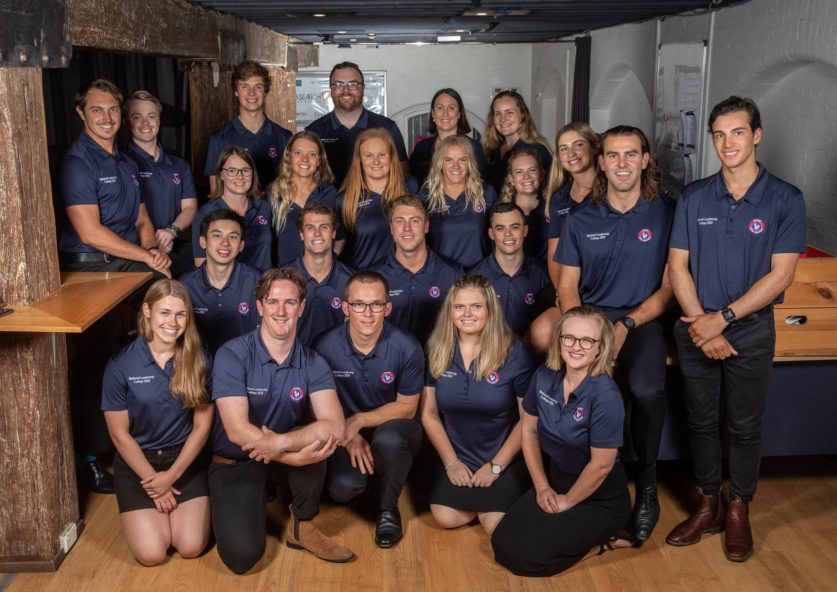 National Leadership College Inspires Youth Leaders
Surf Life Saving Australia's annual leadership college has been hailed a resounding success with 23 life savers from across Australia and New Zealand successfully completing the course in Sydney on Friday, February 7.
The intensive week-long course involved 21 of the brightest and best young surf lifesavers from around Australia as well as two from New Zealand, aged between 20-30, who were nominated by their peers, clubs, branches and states to participate in the program.
"The National Leadership College has been run for over 20 years and aims to provide our future leaders with the skills, support and knowledge to enable them to reach their leadership potential," said SLSA President Graham Ford AM.
"SLSA has invested significant resources over time into preparing the program to ensure that it meets the needs of our members and the changing environment in which we operate, and the program was not only successful, but also memorable and inspiring for all involved".
The program involved a range of leadership activities and challenges with the group fortunate to have both internal speakers such as SLSA President Graham Ford AM and Chief Executive Officer Adam Weir, as well as external facilitators and presenters including Assistant Commissioner of Fire & Rescue NSW, Rob McNeil; Head of Retail Banking at ING, Melanie Evans; Mindfulness Practitioner, Sally Cumming from Engage Health.
Topics discussed over the course of the week included: Creating a vision for the future, Personal Brand, Mindful Leadership, Extreme Leadership, Inclusive Leadership, Influencing and developing others, confident communication, conflict management.
SLSA Chair of Development, Nancy Joseph said the course had met its objectives, designed to challenge, inspire and motivate all participants.
"The week was all about personal development and personal growth," said Joseph. "It was about the participants getting to know themselves and supporting and encouraging them to take everything they learn back to their clubs and/or real life and work situations.
"The sessions give people a sense of empowerment, belief and confidence, added Joseph. "The change in someone from day one to day five is extraordinary. I really can't describe the change in people!"
2019 DHL National lifesaver of the year Mathew Harper (Maroubra) was a participant in last year's National Leadership Course and returned this year as a speaker, talking with the group about "achievement".
"One of my biggest takeaways from last year's course was understanding my values, my own personal mission, and where I wanted to be in 12 months," said Harper.
"I really enjoyed the opportunity to be able to share my personal experiences with the candidates. I was able to share the triumphs as well as the failures and disappointments that I have had and explain how I have been able to use these learnings.
"Hopefully it will help and inspire this year's participants on their leadership journey," added Harper.
The 2020 National Leadership College concluded with a special celebratory and recognition dinner on Friday evening with all participants leaving the course feeling inspired and enthusiastic about their learnings and leadership journey.
Victorian Tarryn Thom said the week-long course saw young like-mined surf lifesavers from around the country who want to do their best to better their clubs and the organisation as a whole.
"We're really lucky here at NLC, there are a lot of like-minded people, who are passionate about lifesaving," Thom said. "Everybody is just wanting work with each other to better the organisation.
"Ultimately in Surf Life Saving, we're all working towards the one aim of preventing drownings and providing safe communities and a good culture at our clubs."
"For me I think it was how everything connected over the course of the week. The first day was really about understanding ourselves and our own leadership styles and what values are really important to us and our why …  why are we involved in lifesaving and what we're trying to achieve in our clubs."
Queenslander Alex Langenberg (Point Lookout SLSC) said the week had been an incredible experience.
"We've had so many different experiences and so many different experts, it's just been mind-blowing," said Langenberg.
"Anyone who's ever been on a National Leadership College will tell you, it is amazing!"
Jedd Goggin from Wauchope Bonny Hills LSC and Maroubra SLSC in New South Wales said he's been looking forward to coming to the National leadership College for a long time and that the week had been a rollercoaster experience.
"It's been everything," he said. "In some sessions there's raw emotion, in other sessions you're celebrating success, you're outside of your comfort zone," said Goggin.
"I've spent the week at NLC really trying to re-write my why … why do I do lifesaving and I really want to be giving people the same opportunities, or more opportunities, than I've had coming through.
"Nothing makes me happier, than being able to give back and see a young nipper or a younger lifesaver either achieving or using my examples or something that I've taught them … and forging their own path ahead," added Goggin.
Toni Cranko from Sumner SLSC in Christchurch, New Zealand described the week as challenging, fun and very educational.
"This week has been really full on, but it's been such an awesome learning and development experience," she said.
"I think a highlight has been getting to connect with different people and talking about sharing resources and different ideas that we can bring back to our own clubs.
"Even though we are different organisations we still have a lot of similarities."
The future of Surf Life Saving is bright and in safe hands, judging by the quality and calibre of young leaders who participated in the 2020 National Leadership College.
Full participant list:
| | | | | |
| --- | --- | --- | --- | --- |
| First Name | Surname | State | Club | Age |
| Morgan | Clarke | NSW | Woonona | 24 |
| Tyla | Cousins | SA | Goolwa | 25 |
| Toni | Cranko | NZ | Sumner | 24 |
| Eliza | Dreves | QLD | Metropolitan Caloundra | 24 |
| Lucy | Ellis | NSW | Evans Head Casino | 24 |
| Lara | Emmett | TAS | Ulverstone | 20 |
| Sonita | Leng-Cole | QLD | Alexandra Headland | 24 |
| Kerry | O'Shea | VIC | Port Campbell | 27 |
| Monica | Reinhardt | WA | Mandurah | 23 |
| Mikaela | Sutherland | NSW | Wanda | 23 |
| Tarryn | Thom | VIC | Inverloch | 29 |
| Ho Yin William | Chan | NSW | | 29 |
| Lachlan | Eaton | VIC | Anglesea | 22 |
| Joel | Farrow | VIC | Williamstown | 24 |
| Jedd | Goggin | NSW | Wauchope Bonny Hills/Maroubra | 26 |
| Dylan | Griffiths | VIC | Black Rock | 27 |
| Daniel | Homer | QLD | Nobby's Beach | 24 |
| Alex | Langenberg | QLD | Point Lookout | 25 |
| James | Lloyd | NZ | Waihi Beach | 24 |
| Braeden | McHugh-Easy | NSW | Brunswick | 24 |
| Chris | Perrott | VIC | Portsea | 23 |
| Alex | Schwarcz | VIC | Fairhaven | 23 |
| Jackson | Towns | NSW | Elouera | 23 |