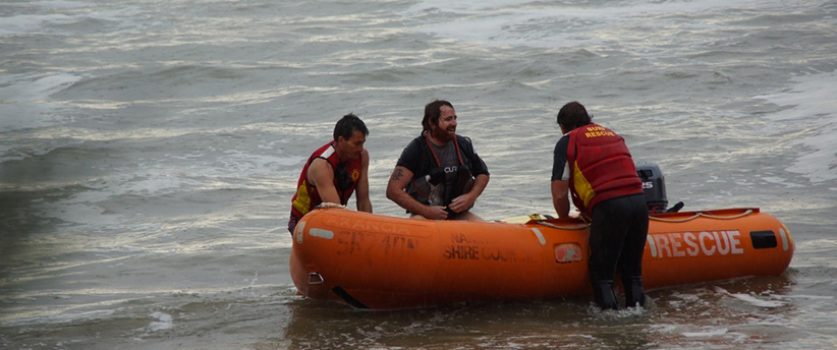 A daring rescue by Macksville-­Scotts Head SLSC President Jason O'Donnell has been awarded the National Rescue of the Month for May/June 2016.
An Irish National is lucky to be alive after he got into difficulty while at Scotts Head on NSW's North Coast on Sunday 5 June.
The 30-year-old man had entered the water with a friend at about 11am when a huge wave overturned their kayaks and both men were separated from their craft. One paddler was able to swim back to shore but the other became stranded and began to drift out with the currents.
Luck was on his side though – the Macksville-­Scotts Head SLSC President Jason O'Donnell was at the clubhouse to drop off a new defibrillator that the club had received at the Mid North Coast Branch presentation the previous evening. It was even more fortunate that Jason's wife had witnessed the incident.
"My wife came and told me that she could see a man being pummelled by the waves, and we went up to the lookout to assess the situation. The sets coming through were some of the biggest I've ever seen on this beach," Jason O'Donnell said.
"I went and got the IRB (Inflatable Rescue Boat) set up and ready to go, but I didn't think we were going to be able to launch in those conditions. It was really difficult for me as in my years of experience, including spending 17 years as a professional lifeguard genuinely thought I wasn't going to be able to get to someone."
After speaking directly with the State Operations Centre in Sydney, Mr O'Donnell thought the best way to attempt a rescue would be with a jetski or a helicopter, but none were available. Police, paramedics and a Branch Duty Officer were all on-scene and agreed that it would be a very difficult rescue effort.
"I could see the man was slowly drifting towards an area where an IRB rescue might just be possible. So I asked for volunteers. Scott Balfour, a recent Bronze Medallion graduate and a local fire captain agreed to crew the boat with me," Mr O'Donnell said.
"My wife was handling radio communications and she did a fantastic job guiding us to the area where the man was floating. We knew we were only going to get one shot at it between the sets and a standard rescue wasn't going to be possible. So I drove in, Scott grabbed onto the man and held onto him while we got out of there and eventually we managed to pull him into the boat."
When he was brought to shore the man was suffering extreme exhaustion and hypothermia. He was an experienced kayaker and was wearing a life jacket. Jason O'Donnell explained that the lifejacket was key to saving the kayakers life.
"I think this rescue really brought home to me how important life jackets are. I'm not sure how long he was in the water for but it must've been about an hour while we were waiting for a chance to launch, but I'm just glad we were able to successfully get him out of the water."