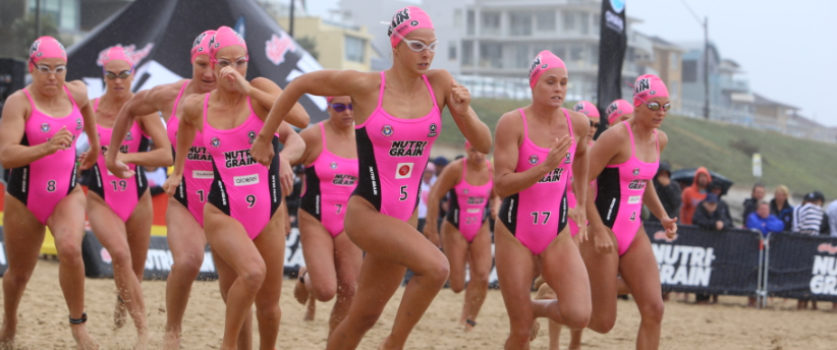 Australia's iconic Nutri-Grain IronMan and IronWoman racing will return on a bigger scale next summer, with Surf Life Saving Australia (SLSA) securing a broadcast deal that will breathe new life into the series.
SLSA has taken back the reigns of the Nutri-Grain Series that is synonymous with summer to secure a new broadcast deal as well as partnering with renowned sports promoter and Imagine This founder, Mike Porra.
As part of the new deal with FOX Sports four rounds of the Nutri-Grain Series, as well as the new Nutri-Grain Iron X event will be broadcast live across summer. The gruelling Coolangatta Gold which kicks off the Nutri-Grain Series, will also be broadcast as a highlights package.
In keeping with the long and rich history between two iconic organisations in SLSA and Kellogg's, Nutri-Grain will again be the naming rights sponsor.
"Nutri-Grain encourages young Australians to live unstoppable lives in the pursuit of their dreams, and the Nutri-Grain IronMan and IronWoman Series represents exactly that. We're really excited about the addition of the new formats and look forward to continuing our support for our athletes" said Tamara Howe, Director of Marketing and Corporate Affairs, Kellogg Australia and New Zealand.
Surf Life Saving Australia CEO, Adam Weir, said the organisation is bringing the Nutri-Grain Series back in house while working with experts in the industry to reconnect Australia's IronMen and IronWomen with sporting fans.
"The Nutri-Grain IronMan and IronWomen Series is iconic and we have a brand that connects with many sporting fans from young kids through to traditional sporting followers," said Weir.
"We are thrilled that for the first time in more than a decade we will have our elite sporting series live on TV and reaching broader audiences.
"Surf sports plays an important part in raising the profile of Surf Life Saving with many Australians and we want to showcase our elite athletes and their lifesaving skills and athleticism.
"The Kellogg's Nutri-Grain Ironmen and Ironwomen are not only the fittest athletes in the country, they are also great surf lifesavers who watch over the beach going public throughout the season.
"We unashamedly want to build the profile of our surf sports stars, provide opportunities for our commercial partners and work hand in hand with our athletes to connect to young fans and get more kids involved in our sport," he said.
Six-time Coolangatta Gold champion and a World and Nutri-Grain IronMan Champion, Ali Day has been a part of the discussions for the new format and said that he is excited about what next summer presents.
"I love the Coolie Gold, so I'm thrilled that it's included in the new look Nutri-Grain Series. It gives athletes like myself who enjoy the long format, a chance to put points on the board straight off the bat. As for the qualifying process, I think SLSA couldn't be more spot on, including core athletes, wild cards and up and comers in the mix. By bringing the Nutri-Grain Series directly back under SLSA and as a stand-alone series, has already raised the level of competition and I'm really looking forward to what the Nutri-Grain Series will bring and seeing who will come out on top," said Day.
The new look Nutri-Grain Iron Series involves five rounds of Iron racing with the opening round taking place at the iconic Coolangatta Gold. There will also be a standalone Nutri-Grain Iron X event that will add obstacles and new craft elements to the traditional iron racing.
The dates and locations for the new series are as follows:
Qualification Series – 7-8 September 2019 – Coolum, QLD
Round 1 – Coolangatta Gold – 13 October 2019 – Coolangatta, QLD
Round 2 – Nutri-Grain Series – 17 November 2019 – Burleigh Heads, QLD
Round 3 – Nutri-Grain Series – 1 December 2019 – Bulli, NSW
Round 4 – Nutri-Grain Series – 15 December 2019 – Surfers Paradise, QLD
Round 5 – Nutri-Grain Series FINAL – 19 January 2020 – North Cronulla, NSW
Nutri-Grain Iron X – 27 January 2020 – Mooloolaba, QLD
More information will added to the SLSA website at sls.com.au/ironseries/
OPEN QUALIFICATION INFORMATION
Six places in both the Nutri-Grain IronMan and IronWoman Series will be allocated based on performance at a qualifying event to be held at Coolum, QLD on 7-8 September.
For more information sls.com.au/ironseries/open-nutri-grain-iron-qualification-information/