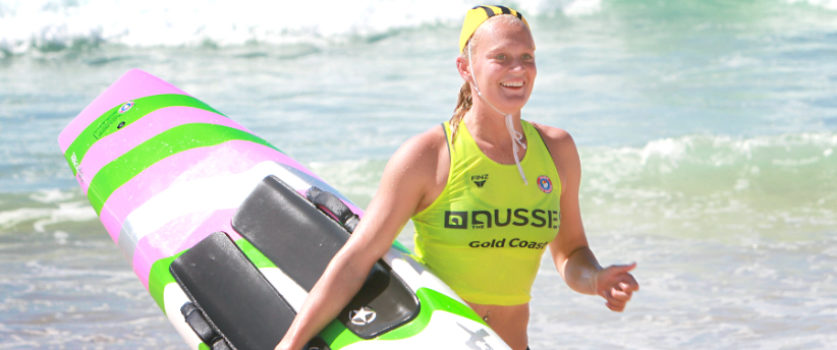 Australian Youth Life Saving Team (AYLT) selectors have taken the first step in developing the next crop of International Life Saving stars with the selection of a talented team to head to the International Surf Rescue Challenge in September 2019.
Sunshine Coast Branch athletes will dominate the team with seven members pegged to make their international debut in the green and gold.
Maroochydore will continue their strong youth representation over the past couple of years with club members Adam Palmer, Joseph McMenamin, Zachary Tabuai and Phoebe Wills-Grace named to put their foot on the start line when the AYLT heads to Durban, South Africa in September.
The Maroochydore quartet all rose to the top of their age group at Aussies 2019, picking up individual gold medals including U17 Female Ski (Wills-Grace), U17 Ironman (McMenamin), U17 Male Surf Race (Tabuai) and U17 Male Board & Ski (Palmer).
Palmer will be joined by Newport rising star Zach Morris as the only youth athletes competing at ISRC who have contested a Nutri-Grain Ironman Final. Both Palmer and Morris qualified for three rounds of the 2018-19 Series with Morris posting the highest result, a tenth-place finish in round five at Surfers Paradise.
Ruby Nolan (Sunshine Beach) will make her Queensland & Australian Team debuts in 2019 after claiming gold in the youth board race victory at Interstates held at Newport Beach. Rounding out the Sunshine Coast athletes is Alexandra Headland duo Tayla Halliday and Emma Woods. The dynamic duo who will be looking to continue their stranglehold on team events after picking up three team medals in addition to individual accolades at Aussies 2019.
Gold Coast based duo in Sara Tazaki (BMD Northcliffe) and Kaan Karadag (Kurrawa) have both been rewarded following impressive results across the board at club level with Tazaki claiming Surf Race Gold while Karadag picked up Taplin Gold with Kurrawa teammates.
NSW based athletes Sam Zustovich (Mollymook) and Isabellah Walker (Cronulla) will form a formidable duo on the sand, both picking up gold medals at Aussies 2019. Zustovich in particular, has continued his impressive rise in the past couple of years claiming both U17 Beach Sprint and Flags titles along with silver in the Open Men Beach Flags in 2019.
Australian Youth Life Saving Team Head Coach Craig Holden expressed his excitement over what will be the first international tour representing Australia for most of the team.
"All of our athletes are incredibly deserving of their selection in the team and we are really excited to see them perform at a high level wearing the green and gold. It's not only a reward for their efforts and results over this past year but we have had our eye on this group for a while now."
The Australian Youth Life Saving Team will head to South Africa on Wednesday 25 September.
Selectors for the Australian Life Saving Team will name the Open Team for International Surf Rescue Challenge next Wednesday, 3 July 2019.
International Surf Rescue Challenge – Australian Youth Life Saving Team
| | | | |
| --- | --- | --- | --- |
| First Name | Last Name | SLSA Club | RLSSA Club |
| Tayla | Halliday | Alexandra Headland | |
| Emma | Woods | Alexandra Headland | |
| Sara | Tazaki | BMD Northcliffe | |
| Isabellah | Walker | Cronulla | |
| Kaan | Karadag | Kurrawa | |
| Joseph | McMenamin | Maroochydore | |
| Adam | Palmer | Maroochydore | |
| Zac | Tabuai | Maroochydore | |
| Phoebe | Wills-Grace | Maroochydore | |
| Sam | Zustovich | Mollymook | |
| Zach | Morris | Newport | The Hills |
| Ruby | Nolan | Sunshine Beach | |