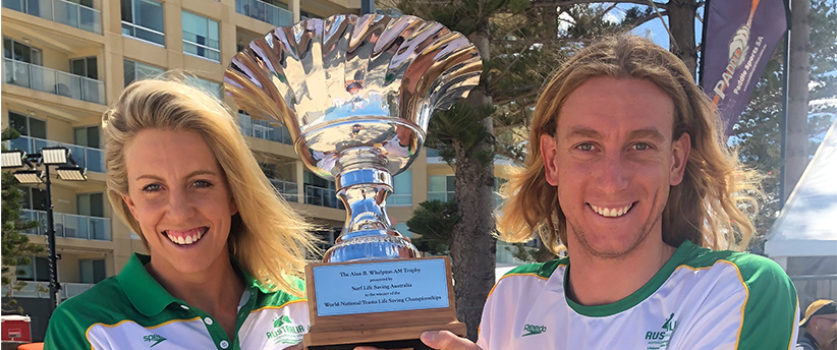 No rest for Aussie lifesaving stars after wresting "holy grail" from the Kiwis
There will be no rest for Australia's leading lifesavers after winning back the sport's "holy grail" at Glenelg beach on Sunday.
Gold Coast stars Georgia Miller and Matt Davis admitted there was no "official celebration" but they certainly enjoyed the team de-brief before hitting the sack.
"It was such an amazing day, nerve wracking but satisfying at the same time," said Miller, who won seven gold medals and will now line up for her club Northcliffe starting today (Tuesday).
"But to be truthful once the debrief was over I was so tired and knowing that we have to be ready to race for our clubs, it was off to bed.
"But for all of us it has been such a great experience and I know our captain Harriet Brown thinks she put pressure on us girls with her injury but watching her dig deep with torn foot ligaments, was so inspirational.
"We have to be ready to do it all over again and lift, knowing Harriet won't be there".
Davis, who was the male star of the pool events, will also have to dig deep as his club Currumbin, line up as a serious contender to vie for their first ever World Championship crown.
"It was such a buzz to win back the Alan Whelpton Trophy from New Zealand," said Davis.
"Both Georgia and I were co-captains of our Youth Team that beat New Zealand back in 2014 but we also tasted defeat in the Opens in 2016, so this victory is all the more sweeter for us.
"It was a mighty team effort and something that we have put a lot of hard work into over the last 18 months and as a team for the last six months".
Both Currumbin and Northcliffe will have a combination of the best of the best of Australian and New Zealand's National teams with Danielle McKenzie and Cory Taylor amongst the Black Fins who will line up for Northcliffe.
While World beach sprint champion Olivia Eaton, and swim star Natalie Peat will join forces with Australian coach, New Zealand-born Kurt Wilson amongst the Currumbin Vikings.
While Northcliffe will have an all-star cast of girls including Miller, Courtney Hancock, Maddy Dunn, McKenzie and their coach Naomi Flood coming out of retirement and former Ironwoman Kristyl Smith, the Vikings will have an all-star pool team led by Davis and fellow Aussie team mates Prue Davies and Chelsea Gillett and beach sprint stars Eaton and Australian sprint and flags champion and Stawell Gift winner Elizabeth Forsyth.