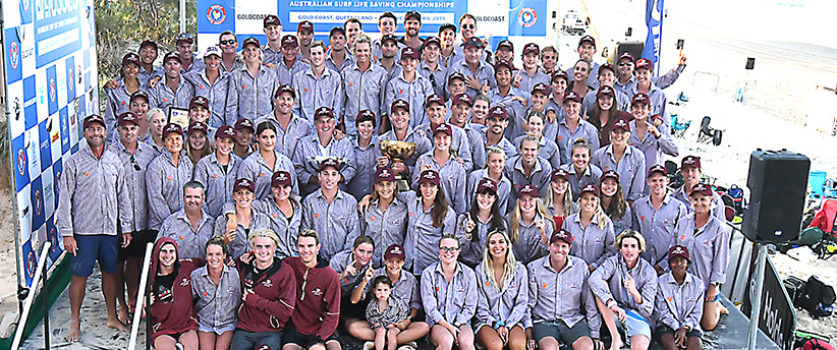 Northcliffe makes it 16 Australian Championship Pointscores in a row
Northcliffe continued its dominance as the leading Australian surf sports club by taking out a 16th consecutive Open Aussies pointscore.
Queensland Surf Life Saving Club dominated across the field, winning the pointscore with 391 points ahead of Alexandra Headland in second with 269 points, and Currumbin in third on 188 points.
Northcliffe President David Shields said the results were a team effort.
"Sounds easy but it's not easy, we're so proud of everybody who competes for BMD Northcliffe," Shields said.
"Sixteen years is a long time and a lot of different people have gone through the system in that period of time, but we're still able to get up there and it's a big win.
"Alexandra Headland were very strong all weekend, incredible kids, incredible depth, they're similar to us, it's not going to last forever but we'll try for 17 next year.
"Proud of everybody, all our coaches, Mark Williams, Kev Morrison, Naomi Flood, we're so proud for them all.
Olympian dominate the Open Male and Female Ski Race
Olympians Riley Fitzsimmons (Avoca Beach) and Alyssa Bull (Alexandra Headland) showed why they are some of the best paddlers in the world to win the Australian Male and Female Ski Race Championships.
In the men's event, smart racing from Fitzsimmons proved the difference.
"Sam Norton was beside me and fell off at the start and I just had that bit more room on the way out and that enabled me to manoeuvre around and get through the break," Fitsimmons said.
The Rio Olympian took the conservative option on the way back to the beach.
"I didn't think I was going to hold that last (wave), it was pretty big. I chose the safe option and it worked out.
"I got so lucky to get a wave from around the last can, I didn't know if I was going to get it all the way to the beach,"
Fitzsimmons said he was honoured and speechless to join a rare group of Australian champions.
"I've looked up to so many guys who have won this title before and to have my name up there next to the likes of Lachie (Tame), Peter Scott, Ray Stewart… they're real world class paddlers, it's a dream come true."
In the battle for the minor placings it was Hayden White (Currumbin) who won silver and Tanyn Lyndon (Kurrawa) who nabbed bronze.
It was Fitzsimmons second gold at the Aussies after he partnered with Peter Mitchell and fellow Olympian Lachlan Tame to win gold in the Single Ski Relay.
Alyssa Bull's gold medal today was her fourth – her impressive week including wins in the mixed double ski, female single ski relay and female double ski.
"This one's pretty special, I love doing the team events the most but to be able to get a win in the single is special too," Bull said.
"It was anyone's game out there today, you really have to race your own race and keep your own head in your own boat and make it out as clean as you can and also back in you've got to pick your own chances…couldn't dial a wave, it was hard work, had to paddle all the way."
Danielle McKenzie (Northcliffe) was the silver medallist and Jordan Mercer (Noosa Heads) had a great result coming back from injury to win bronze.
Open Male and Female Taplin Relay
The Championships closed in spectacular fashion, as it traditionally does, with a double win for Northcliffe in both the men's and women's Taplins.
The swell played a major factor for most of the racing today, with the ski leg of the Irons and taplins a turning point in many races.
The ladies set the tone, with Georgia Miller still riding her high after moments earlier taking out the Australian Ironwoman title. 
Hannah Scully got her Northcliffe team off to a flying start in the board leg, chasing redemption after losing her ski during the Ironwoman. She handed over to Danielle McKenzie who showed nerves on steel in the ski leg to extend Northcliffe's lead.
While recently crowned Open Ski Champion Aly Bull produced an outstanding ski leg to close the gap for Alexandra Headlands, Miller was given too great a lead in the final swim leg and capped off a fairy tale finish for her and her team mates for Aussies 2019.
"They were really coming for me, I probably didn't warm down as much as I should have after the Ironman.
"The Taplin is the pinnacle, we train day in day out and to do this with these girls was awesome," said Miller.
It was then the final race of the Championships the Men's Open Taplin and the Northcliffe boys were looking to farewell favourite son Shannon Eckstein out on top.
They were off to a solid start among the lead pack in the board.  But as was the case with the rest of the weekend, the races were being won and lost in the ski leg.
Shannon Eckstein was determined to finish his Aussies 2019 campaign on a high and add to his 42 Australian gold medals with another.  He produced a sensational ski paddle, but Manly were hot on their heels.
The lead changed during the first swim leg with Kendrick Louis taking Jay Furniss going in the water in front, with fellow Northcliffe competior Bailey Armstrong on his heels. Bailey stormed home to claim the gold, capping off another big year for the Champion Club.
Open Male and Female Board Race
Emma Dick (Mermaid Beach) was pushed all the way as the Female Board Race Championship turned into a sprint finish with seven competitors on the one wave.
"I knew I was mid-field on the way in and I looked behind and I saw this big wave brewing to the south and I went over with some of the other girls and it just picked us up and bought us all the way through," Dick said.
In the sprint to the finish line it was Georgia Miller who picked up the silver and Jayde Hardstaff (Currumbin) bronze.
Jay Furniss won the Male Board Race title after he withstood pressure from Alexandra Headland duo Rhys Burrows and Campbell Guthrie along with TJ Hendy (Surfers Paradise) who finished second and third respectively.
"I was lucky enough to push down with three other guys and got them up the beach at the end," Furniss said.
"We got out pretty cleanly and then on the way in I was lucky enough to get (the wave).
Furniss quotes his success to "Pushing through as much as I could and staying composed and do the little things right," he said.
Open Male and Female Surf Race
Courtney Hancock (Northcliffe) claimed her fourth Australian open women's surf race title, the veteran using her exceptional surf skills to jag a broken wave close to shore and push ahead of Lani Pallister (Alexandra Headland).
Hancock attributes Pallister for really pushing her throughout the season and said she has made her a better competitor.
"Lani is such a beautiful swimmer, she's really upped my swimming, I've wanted to catch her or even just stay within 10 metres of her," Hancock said.
"I tried to hold onto her as long as I could.
"Prue (Davies), Lani and I were all together and got on that front wave, I guess I was lucky I held my breath a little longer than the other girls and managed to get it the whole way in."Hancock snatched the gold ahead of Emma Dick (Mermaid Beach) and Lani Pallister (Alexandra Headland) in the minor placings.
In the Open Men's surf race it was defending champion Nick Sloman (Noosa) who delivered a strong finish to take back to back gold medals.
The Tokyo 2020 Olympic Games hopeful was able to navigate the surf conditions beautifully to finish first ahead of Shannon Eckstein (Northcliffe) and Hayden Cotter (Maroochydore).
Sloman attributes his ability to negotiate the tricky conditions to the skills he learnt in Nippers "I went back to my nipper skills and just had to get down on the bottom and watch it go out and I did that and managed to get out clean and build on that race from there.
"Feels good to retain my title, I was feeling the pressure this year I had to make sure I did everything right and everything by the books and luckily it paid off for me out there.
"I didn't get down that first one I thought they were coming on a wave behind me but I was lucky there was a little bit of a lull, I'm very happy".
Open Male and Female Surf Boat
Dee Why steered through the tricky conditions to win the Open Male Surf Boat Championship. The team of Christopher Mackinnon, Jason Rowe, Harrison Selby, Shaun Stacey and Jay Yeomans had a smooth run out to the cans, but a persistent Batemans Bay crew challenged them to a close finish.
The win was a 'long time coming' for the experienced Dee Why team who have been competing together for two years. The team said it was great to celebrate success with 'a great bunch of blokes.'
NSW Clubs filled the top four placings with Batemans Bay holding on for second, Elouera third and Queenscliff fourth.
Northcliffe got the gold in the Open Female event, with the team going back to back for a second consecutive Aussies gold. The team of Sara Western, Damien Clayphan (sweep), Rachel Clayphan, Shannon Grimsey and Penelope Hamilton caught a wave out the back to extend their lead. After coming close to tipping, they set course for the beach to arrive home smoothly and secure the gold.
Elouera finished second with Torquay third.
For full Aussies results click here