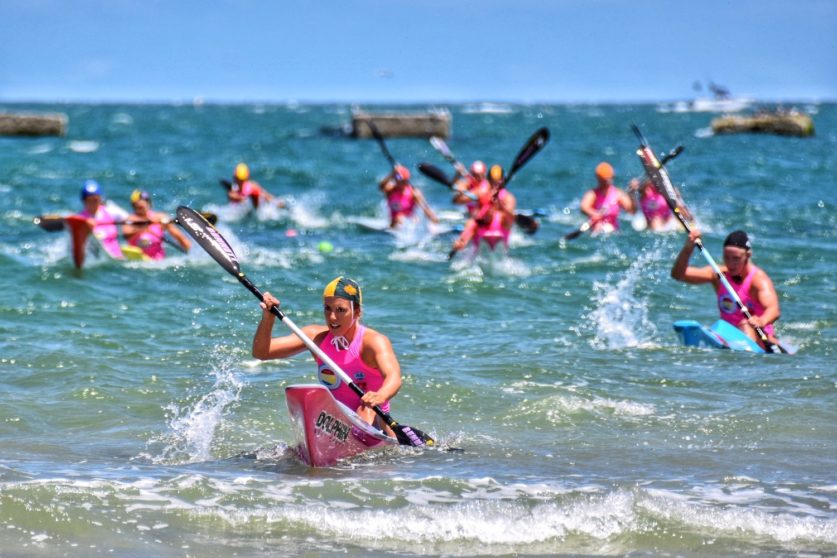 The Australian Surf Life Saving Team have touched down in Durban, South Africa ahead of the International Surf Rescue Challenge, with a surf sports star-studded squad in tow.
The 14-person squad features two Olympians, three Nutri-Grain IronMen and IronWomen, a World Lifesaving record holder and a host of Aussies champions.
Olympic duo and 2019 Australian Ski Gold Medalists Aly Bull (Alexandra Headland) and Riley Fitzsimmons (Avoca Beach) will headline the team as they make their Australia Life Saving Team debut.
Bull and Fitzsimmons will join a team that features six members of the victorious 2018 World Resuce team including triple crown holder and current Nutri-Grain IronWoman Georgia Miller (BMD Northcliffe).
Miller's fellow Nutri-Grain Iron Series stars Harriet Brown (BMD Northcliffe), Lizzie Welborn (Newport), Kendrick Louis (Manly), Ben Carberry (Currumbin) and Max Brooks (Newport) will also feature in the Australian squad.
Lizzie Welborn (Newport) returns for her second International Surf Rescue Challenge appearance and will be looking to build on a strong finish to the 2019 season following an illness that interrupted her last season.
Current World Lifesaving record holder Prue Davies (Currumbin) will return from the 2018 World Championship team to handle surf swim and rescue tube events, as International Lifesaving moves towards a wider team structure focusing on specialist athletes.
Current Australian Ironman Champion Max Brooks (Newport), Ben Carberry (Currumbin) along with Open Water Swimming rising star Hayden Cotter (Maroochydore) will all make their capped Australian Life Saving Team debuts in South Africa after impressive consistent results across the 2019 season.
On the beach, the Australian Lifesaving Team will again be led by Australian, Interclub and World Champion Beach Flagger Elizabeth Forsyth (Currumbin) and five-time Australian Beach Sprint Champion Jackson Symonds (Sorrento, WA).
Joining them will be current back-to-back Australian Flag Champion Blake Drysdale (Newport) and 2019 Australian Female Beach Sprint Champion Bree Masters (Kurrawa).
Head Coach Kurt Wilson acknowledged the team will be in for a tough battle against rival nation New Zealand.
"We have a supremely talented and confident team heading to Durban and have every belief we will be victorious in South Africa," Wilson said.
"The New Zealand team will be with us every step of the way and push our team to the absolute limits.
"We saw the same in 2017 where it was an absolute battle across the three tests and will be no different this time around."
The Australian Life Saving Team will compete for the 2019 International Surf Rescue Challenge Trophy, 2019 Tri-Nations Trophy (NZ & South Africa), and the 2019 Trans-Tasman Challenge Trophy (NZ).
International Surf Rescue Challenge – Australian Life Saving Team
| | | | |
| --- | --- | --- | --- |
| First Name | Last Name | SLSA Club | RLSSA Club |
| Aly | Bull | Alexandra Headland | |
| Riley | Fitzsimmons | Avoca Beach | |
| Harriet | Brown | BMD Northcliffe | |
| Georgia | Miller | BMD Northcliffe | |
| Ben | Carberry | Currumbin | |
| Prue | Davies | Currumbin | Royal Life Saving – QLD |
| Elizabeth | Forsyth | Currumbin | |
| Bree | Masters | Kurrawa | |
| Kendrick | Louis | Manly | |
| Hayden | Cotter | Maroochydore | |
| Max | Brooks | Newport | |
| Blake | Drysdale | Newport | |
| Lizzie | Welborn | North Bondi | |
| Jackson | Symonds | Sorrento (WA) | |