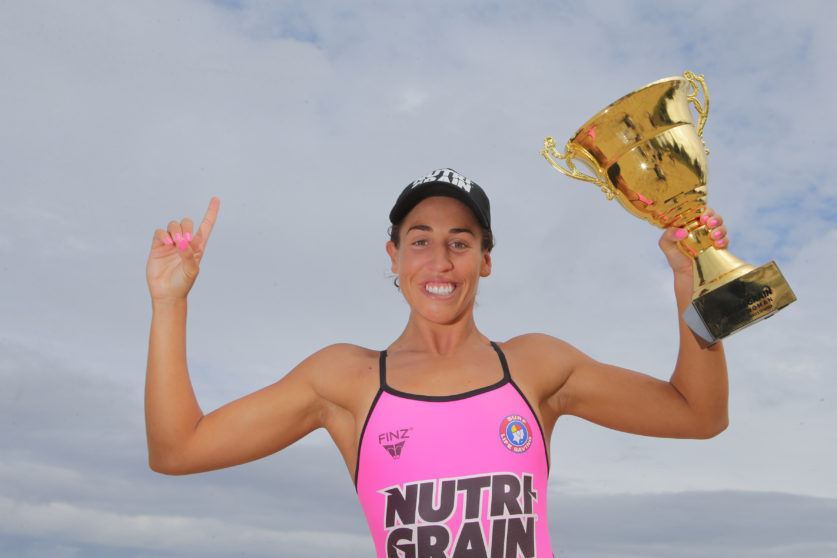 Rogers Claims the Nutri-Grain IronWoman Series Crown But Brown Has Her Day in the Sun
Northcliffe's Harriet Brown raced to victory in round five of the Nutri-Grain Ironwoman Series held at North Cronulla, but the greatest honour was reserved for series winner Lana Rogers who cemented the championship with a podium finish in the ultimate round of racing.
Having already won three rounds this season, Noosa's Rogers had been declared the Nutri-Grain IronWoman series champion after Surfers Paradise Round 4, but the Cronulla native who now lives with her family on the Sunshine Coast had everything to race for at the beach where she won her first state medal.
"So good to be home. I've got so many memories, I actually got my first state individual medal here versing Georgia (Miller) so it's so good we're both still in the series and doing what we love. It's good to be home."
After mixing it with the lead group throughout the three rounds of racing, Rogers dug deep and sprinted to the finish line to cross in third position.
"Tricky conditions today, the rip was always changing so it was changing which way you'd go between each race.
"I feel a bit rough today, I've been feeling rough all week coming into the last round, I was a bit nervous and knowing that I am on top.
"I did what I could today and still finished on the podium so happy with that."
Brown and Northcliffe's Georgia Miller went head to head throughout the afternoon with Brown pulling ahead on the final board leg.
"I am back and I'm so happy, it's such an awesome feeling after all the years and the tricky off season last year when I was injured. To come back and win that it was pretty great," Brown said.
"I wasn't 100 percent sure if I was winning or not because there's so many waves out there everyone was going left or right, I just wasn't too sure, I was trying to hold it.  I asked my coach if I won that and she said yes, you did.
"It's such a great feeling, I didn't want the sprint to finish. To be able to take my time and high five the crowd that was pretty special," she said.
Miller's second in the North Cronulla round saw her crowned series series runner-up. Newport's Lizzie Welborn was third.