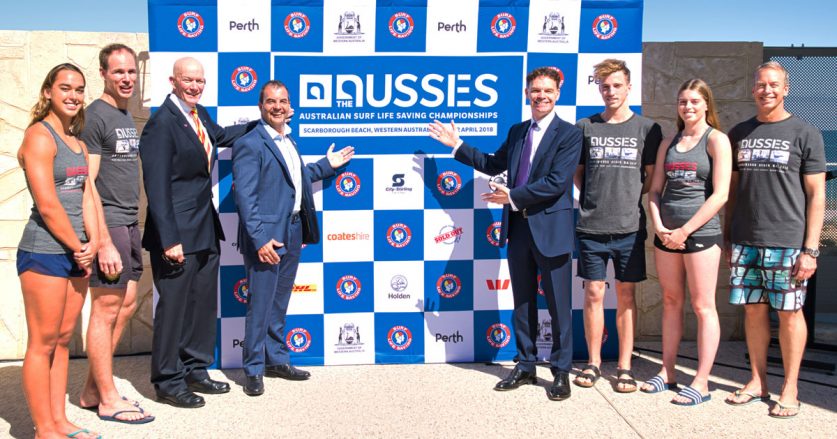 This year's Australian Surf Life Saving Championships will see a return to its WA home, Scarborough Beach, for The Aussies 2018 – and the pinnacle of Surf Life Saving competition.
Surf Life Saving Australia (SLSA) officially launched "The Aussies 2018" at the picturesque Scarborough Beach Pool today, situated across from the carnival headquarters at Scarboro SLSC.
The nine-day Championships to be conducted from April 14 to 22 will attract the cream of Australian surf lifesavers from every State in Australia and internationals – with total attendance over 5000 competitors from Youth, to Opens and Masters.
The Youth Championships will kick start the carnival on Saturday and Sunday April 14 and 15, followed by the Masters on Monday and Tuesday April 16 and 17 and open competition from Wednesday April 18 and culminating in the traditional finals Sunday on April 22.
Tourism WA Chairman Nathan Harding joined the Mayor of Stirling and a notable surf lifesaver in his own right and a Scarboro Life Member Mark Irwin – who will be sweeping the Trigg island boat crew at The Aussies – to officially launch the event.
They were joined by Scarboro's two-time Aussies 2km run gold medallist Hannah Jones, her father, multiple gold medal winning Masters competitor Warren Jones, gun open surf boat rower Ben Whitehurst, City of Perth's WA State Open and Under 19 Ironman and Surf Belt champion Tom Gallagher and Trigg Island State Under 17 surf and Open belt champion Maddy Thomson.
City of Perth, Trigg Island, Mullaloo and North Cottesloe are the leading local clubs in WA and have dominated the innovative WA Surf League Series and last weekend's WA State Championships and will be very much in the thick of all the action over the nine days of Aussies action.
President of SLSA Mr Graham Ford AM said the countdown had begun in earnest with all of the States having completed their State Championships with three weeks to go until the biggest event of the Surf Life Saving season.
Mr Ford said SLSA has worked closely with Tourism Western Australia, the City of Stirling and local authorities to deliver what will celebrate another stand-out season for lifesavers all round Australia.
"We are looking forward to witnessing the best surf sports athletes in the world battling it out for those much sought-after Aussies Medals and those precious points for the overall, open and age pointscores," Mr Ford said.
"The rivalry in club land is certainly intense and makes for great racing.
"There is a real buzz around the beach on that very first morning and to see so many club tents and the different club shirts designed for The Aussies and all the club caps – you know then you are in the middle of one of the biggest sporting events in Australia.
"It's a credit to the competitors who train so hard and dedicate their season to putting it all on the line and to the clubs who fundraise all year to make The Aussies a wonderful experience for all.
"The race for Aussies medals is a race that starts in the heats, runs through round after round and into the quarter finals and semi-finals and then into the finals where medals are fought for".
BACKGROUND
It will be the 12th time Western Australia has hosted the finale to the Australian surf sports calendar and the 10th time it has been hosted at Scarborough, the beach that Surf Life Saving turned to in 1951 when it awarded the event to WA for the first time.
The 1951 Championships in the West saw great champions like WA's own Don Morrison and the likes of his contemporaries like Stevie Wilkes, Max Riddington, Graham Timperley, Rodney Hounslow, John Mills, John Bloomfield and Alan Williams, become very much household names.
Surf lifesaving was very much on the move again after the War years an era which had seen an east coast domination of the titles with the majority of the Championships hosted in an around the Metropolitan beaches of Sydney, with Southport and Greenmount the first Queensland hosts in 1947 and 1950.
It went along way towards putting WA Surf Lifesaving on the map and the proud Western Australians have continued to produce many great champions ever since.
Names like Fred Annesley, Vidler brothers, Ken, Jeff and Colin, Simon Martin, Jack Trail, Deane Pieters, Alison O'Toole and Alicia Marriott are just a few who have helped establish WA Surf Lifesaving.
There was a time in the early to mid 70s when the likes of Ken Vidler, Simon Martin and Michael Cook stole a march on the Australian Ironman podium – taking four gold, three silver and one bronze over five years – twice in 1973 and 1974 – taking the quinella.
The Championships returned across the Nullarbor and to Scarborough in 1958 and 1965 before City of Perth played hosts in 1971 and Trigg Island in 1979.
But Scarborough has been the go-to WA venue ever since in 1987, 1991, 2007, 2008,  2009, 2014 and 2018 will again be the major focus when clubs from every State in Australia send the cream of their competitors, chasing those elusive Aussie gold medals.
WA SURF SPORTS ATHLETE PROFILES
Name: Tom Gallagher
DOB: 20/05/1998
Club: city of Perth
Age group: U/19
How long in SLS: 6yrs
WA State results 2018:
– 1st in U19 and Open ironman
-1st in U19 and Open belt
-1st U19 and Open board rescue
-1st in U19 surf race
-2nd in U19 board and 3rd in open board
Total medals:
9 Gold,
5 silver and
2 bronze medals
Aussies events: surf race, board race, ironman, board rescue
Name: Madeline Thomson
DOB: 16/11/2000
Club: Trigg Island Surf Life Saving Club
Age Group: U17
How long in Surf Life Saving: I have been involved in surf lifesaving since I was a nipper in under 8's
WA State Results (2018):
Gold U17 Female surf race
Bronze Open Female surf race
Gold U17 Ironwoman
Gold Open Female rescue tube rescue
Gold U17 Female surf teams
Silver Open Female surf teams
Silver U19 Female surf teams
Silver U17 Female Taplin relay
Gold U19 Female Taplin relay
Gold U17 Female Belt race
Gold Open Female Belt race
Aussies events:
U17 Female Surf Race, U17 Female Ironwoman, U17 Female Board
U17 Female Ski, U17 Female Belt race, Open Female Belt race
Name: Hannah Jones
DOB: 13/2/2002
Club: Scarboro SLSC
Age Group: U17
How long in Surf Life Saving: 8 years
WA State Results (2018):
1st U17 female 2km beach run
2nd U17 female surf belt race
Aussies events:
U17 female 2km beach run,
U17 female surf belt race,
U17 female surf teams race
Aussies results: Hannah won the 2km beach run at Aussies 2016 U14 and 2017 U15.
Name: Warren Jones
DOB: 28/1/1966
Club: Scarboro SLSC
Age Group: Masters 50-54 years
How long in Surf Life Saving: 42 years
WA State Results:
Masters-1st surf race, 1st rescue tube race, 1st board race, 1st surf teams, 2nd double ski, 2nd board rescue, 3rd board relay
Family history – Hannah's younger sister, Phoebe Jones, is excited to be competing in her first Aussies and on her home beach in U14 2km beach run and U14 board race. Hannah's grandfather, Scarboro Life Member, Evan Jones 85yrs, joined in 1947 and recently received his 70 year service medal. He competed in his first Aussies in 1960 at Merewether NSW. He still competes in the club swims on Sundays. Hannah's grandmother, Bryce Jones nee Anderson, 87yrs and was a member of Cottesloe's SLSC women's movement competing from 1944-1960 before joining Scarboro and gaining her bronze medallion in 1989. She still loves coming down to watch the surf carnivals.
Name: Ben Whitehurst
DOB: 26/3/1992
Club: Scarboro
Age Group: Open
How long in Surf Life Saving: 19 years (joined in 1999)
WA State Results (2018): 4th in Open Men's Surfboat, 2nd in Surfboat Relay.
Aussies events: Open Men's Surfboat, Open Surfboat Relay, Open Men's Beach Relay