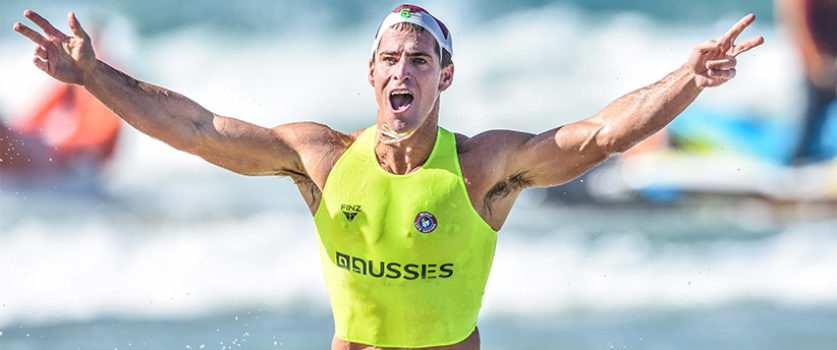 Shannon Eckstein to retire from Ironman racing after 20 years
After 20 years of competing, Shannon Eckstein will today retire from professional ironman racing when he lines up in the ironman final at the Australian Surf Life Saving Championships on the Gold Coast.
The 35-year-old will be hoping to claim his ninth Australian Ironman title to add to his six World and nine Kellogg's Nutri-Grain Ironman titles.  In the world of sport, there is nothing he hasn't done, including captaining Australia.
The tributes are already flowing in for one who many call the 'greatest of all time'.  While a trip down memory lane has many reflecting on his greatness, Eckstein said he can't see himself getting emotional for his final race.
"I don't think I'll be too emotional, I'm a bit of realist. I've had a great time doing what I love for the past 20 years, but it's going to come to an end at some point and you've got to celebrate that.
"Probably my family will be emotional and that might make me emotional… but while I'm racing, I'll be pretty focused on getting the job done," he said.
Nicknamed 'The Professor', Eckstein's ability to read the ocean and rarely make a mistake has been what has seen him remain at the top of his game for two decades as well as claim 42 Australian gold medals.
Taking a look back over the greatest Eckstein moments, there were many of the sports legends who have fond memories.
His former coach and mentor, six time Australian Ironman Champion Trevor Hendy, said there is no question that Shannon is the "ultimate ironman".
"So proud of him, so incredibly stoked for him, he's had an amazing career.
"He reminds me of a Rod Laver/Ken Rosewall type… super graceful, he should be a legend of Australian sport forever.
"I'm amazed at this incredible man, and I got to see him race, got to be a part of that certainly in the early days. I'm proud to be a lifesaver when I watch him go round.
"I think Shannon was the first Ironman to have the whole package. From the board, swim, ski, run, there wasn't a stroke out of place.
"He had pedigree, he could sprint and go over long distances and he just had this fiery determination that didn't show in fiery moods but in steely determination.
"There was something different about Shannon right from the start. Shannon was just an amazing nipper but he had this determination about him, he just kept going, going going.
"When other kids wanted to muck around he wanted to train and keep going, he played and he surfed and did all that stuff.
"We knew from the start, this kid is going to be amazing," he said.
Arguably one of the greatest rivalries in Ironman racing over the decades was that of Shannon Eckstein and Zane Holmes.
For a long time, they dominated the podium in the top two spots with Holmes admitting that it was Eckstein who made him most nervous when he stepped up to the start line each time.
"He didn't have a weakness and still doesn't. I just knew when I put my foot on the line he was the only guy I had to beat," said Holmes, a former Australian Ironman Champion himself.
"We had a great healthy rivalry. We trained together and pushed each other day in day out.
"For a number of years we were the only ones winning races… it was either him or me. That pushed both of us to another level.
"When I trained with him he was always at such a high level, he never had a bad session… I was a bit up and down but his training was just at a high level sometimes I would get up to that but a lot of the time I was below it, what helped me was I was a real racer but he could do it all.
"He could win at the big moment when it matters. The stand out thing for me was just how consistently good he was in training, day in day out."
While their rivalry is one for the history books, as Northcliffe club mates they achieved greatness in the many teams
"When you were in teams with him you just knew, he would pull out want was needed."
"Definitely Shannon was great in all conditions especially when it got tricky."
A man who had one of the best views to watch Eckstein's career go from strength to strength is SLSA Surf Sports Advisor and former KNG Ironman Series and Aussies Referee, Andrew Buhk.
"He is the ultimate professional. He would focus on what he had to do and didn't worry about what his competitors were doing, he just proved over and over again how he could read the surf to win races"
"He could turn it on…. watch him when he races he will wash ride and only use his energy when he has to so that when he needed to turn it on he could."
"When you asked competitors of his era what are you going to do most of them would say we are just going to follow Shannon and try to stick with Shannon."
With the crowds expected to swell come 'Super Sunday' of Aussies 2019, all eyes will be on Shannon Eckstein with a wave of support, at what he would consider his home turf, to spur on his final Ironman race.
Can he make it nine Australian Ironman titles? All will be unveiled at Broadbeach on Sunday afternoon.
Watch all the action live at sls.com.au/aussies
For full Aussies 2019 results <click here>