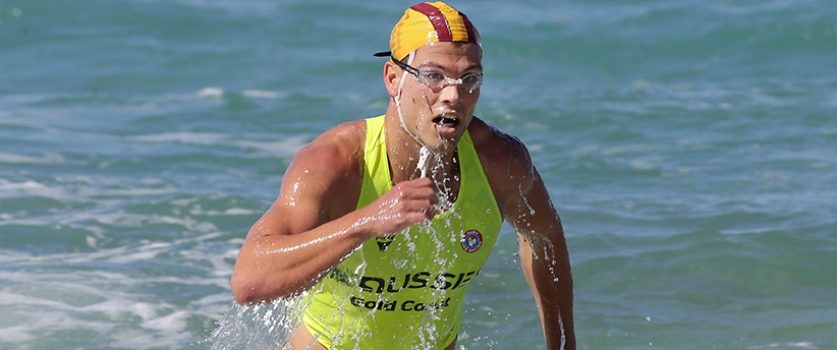 Silver Lining for Eckstein's Farewell
Max Brooks (Newport) won the Australian Ironman Championships at Broadbeach holding off eight-time champion Shannon Eckstein who finished second in what was his final Ironman race.
Unlikely winner Brooks was speechless following the win.
"It's been a really tough season for me, I haven't got one result yet this season, that's as good as it gets there, it feels like a bit of dream really," Brooks said.
"I've loved the sport since I was 10 years old and he (Shannon) was always the one at the top of his game and to be able to race with him for the last four years and then to be in his last ever two races it means a lot, I'm really happy."
Eckstein's smart racing challenged the field through the three stages and he was looking good for the win after the board stage.
But the race opened up during the ski when Eckstein came up against a 'wrong wave at the wrong time.'
"I couldn't go down I had to pull off and 360 around," Eckstein explained.
"I gave away 100 metres and I had to try make that up…and nearly got there."
Brooks took advantage of the situation.
"I knew it was all going to be in the ski leg I was lucky enough to be able to get a great board wave, so I really attacked the transition and lucky to sneak out on the ski and sit on Shannon's wash," Brooks said.
"He (Shannon) was in a bit of sketchy position I had to pull off, I was lucky enough to be able to take it down.
"TJ (Hendy) actually gapped me in the swim, he swum away from me and swum really well, so I was lucky enough to get a wave that just held out and was a just a sprint finish in the end. I got up and I thought 'I'm not going to lose it'.
Eckstein bows out as an eight-time Australian Ironman Champion, six-time World Champion and nine-time Nutri-Grain Ironman Champion.
The patient competitor said luck didn't go his way today.
"Never been one to rush myself when I'm doing the Ironman, it's always about thinking where you want to go.
"When you choose to go you've got to go and that was what I was doing today and it did work, but that was the one that got away.
"That's the sport. You try to put yourself in a position where bad luck doesn't get you, but it got me a bit there today.
"I prided myself on being good enough to come through bouts of bad luck but today it wasn't.
"I've enjoyed this year a lot more than the last 20 years, there's been a lot of pressure at times.
"This year's been about enjoying it. I started nippers for enjoyment and that's how I wanted to finish," he said.
For full Aussies 2019 results click here