BEING instructed not to run is hardly the ideal preparation for defending the Open beach sprint title at the Australian Surf Lifesaving Championships, but it was the vital ingredient to help Jackson Symonds win gold at Coolangatta today.
The 23-year-old overcame a four-month battle with plantar fasciitis and a classy field in the final to win his third Open sprint title in the past four years.
Symonds, from West Australian club Sorrento, came home ahead of Currumbin's former champions Currumbin's Jordan Caldow and North Cottesloe's Tom Nolan.
"Its pretty special," Symonds said of claiming his gold medal number three.
"I think most people just want to win one, that's always the dream, so to be lucky enough to go back to back and to win my third title in the space of four years is pretty incredible and something I never thought I'd get a chance to do."
Winning at Coolangatta seemed a long way off when Symonds' case of plantar fasciitis flared up in November, and it continued to give him serious problems in the weeks leading up to Aussies 2017.
"I've been trying to manage my load a bit to protect my foot," he said.
"I had to do seven weeks of water running because I wasn't allowed to run, so I just had to try to keep fit and keep the legs ticking over as well as I could.
"I've had a lot of drama in the last three weeks so just to be able to race today is pretty good, and to be able to win is even better.
"I have a great physio in Karrinyup named Craig King who has worked wonders with me in the last three years. He's an absolute legend."
The tension before the sprint final was increased when Newport's Jake Lynch had to leave the start line for treatment on what appeared to be an injury.
Symonds said the clash of dates with the Australian athletics championships had robbed the beach sprint final of some big names but he didn't feel that took anything away from his victory.
"I'm happy to see them chasing their dreams of world championships or Commonwealth Games," he said.
"This is more than enough for me."
A six-year hunt for Aussies gold finally brought success for Currumbin Kiwi Olivia Eaton when she raced to a commanding win in the Open women's beach sprint.
She spearheaded the Currumbin Beach Vikings to a memorable afternoon that saw Brett Robinson's crew emerge as the major force in Australian beach sprinting, claiming five gold and three silver medals in a stellar afternoon.
Only 19 years old, Eaton has run in open competition since 2012, gradually improving each year and reaching her first Open final in 2015.

She placed third in 2016 and 12 months later the Currumbin speedster was able to celebrate her big breakthrough, beating defending champion Nicole Kay and Bree Masters (both Kurrawa).
"I'm over the moon," she said.
"Early on I was contesting the Open races just to give it a go and gain experience.
"I've been lucky enough to be in the New Zealand Black Fins team so I've had the chance to race the likes of Mel (Australian flags racing legend Melissa Cracroft-Wilson) and all the older girls and learn from them.
"You've got to race the best to be the best."
Eaton was the star of the track, finishing the day with three gold medals after anchoring the dominant Vikings to victory in the Under-19 and Open beach relays, with team mate Olivia Fien, second in the individual U19 sprint and a member of both relays.
She was clearly the best during the individual final, starting well and coming home strongly for an emphatic victory.
"I knew the back end of my race is usually the best so I knew if I could get out in front and not see anyone I would just feed off that and build off it," she said.
Originally from Mount Maunganui, Eaton has raced for Currumbin for four seasons but moved permanently to the Gold Coast about nine months ago to work under the guidance of club coach and former Australian champion Brett Robinson on both the beach and the track.
"I was kind of at a crossroads back in New Zealand and I could either step up and take the sport more seriously or continue what I was doing back home," she said.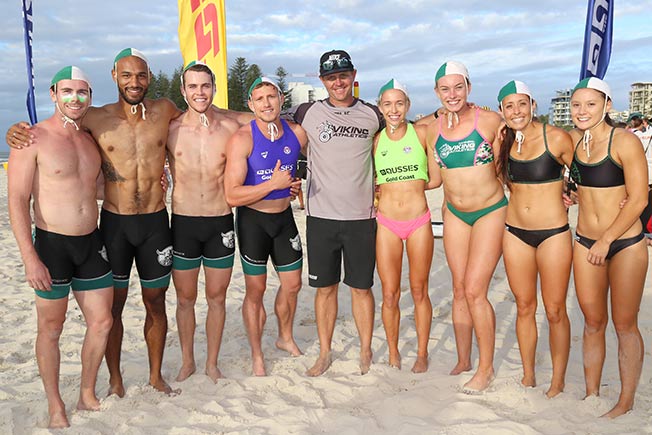 "You can see from the Currumbin squad how many great athletes we have and the move has definitely paid off."
The men's Under-19 sprint went to Sorrento's Charlie Rigby, who scored a big win over clubmate Caleb Paulus and Caleb Grimley (Kurrawa), while in the Under-17 final it was Jamee Smith
(Wanda) the winner, with William de Vries (Freshwater) in second place and Harry Braddish (Umina) third.
Nicole Kay (Kurrawa) was the winner of the women's Under-19 from Fien and Ngaire Hadfield (Cronulla), while in the Under-17 final it was Chloe Mannix-Power (Cronulla) winning from Kristy Edwards (Newport) and Taylor Stickler (Kurrawa).
Australian Surf Life Saving Championships, Coolangatta, Day 8:
MEN
Open 2km beach run N Breen (Cronulla) S Barrie (Southport) M Palmer (Wanda) Beach Sprint J Symmonds (Sorrento) J Caldow (Currumbin) T Nolan (Nth Cottesloe)
Under 19 2km beach run J Stevens (Nth Bondi) H Miller (Mt Maungauni, NZ) 1 J Lund (Tallebudgera) C Lowe-Griffiths (Kurrawa) Beach Sprint C Rigby (Sorrento) C Paulus (Sorrento) C Grimley (Kurrawa) Beach Relay Currumbin Cronulla Kurrawa
Under 17 2km beach run C Breen (Cronulla) C Verco (Nth Bondi) K Aimer (Alexandra Headland) Beach sprint J Smith (Wanda) W de Vries (Freshwater) H Braddish (Umina) Beach Relay Wanda Currumbin Mollymook
WOMEN
Open 2km Beach Run E Coates (Northcliffe) A Leadbeatter (Swansea Belmont) M Kassulke (Northcliffe) Beach Sprint O Eaton (Currumbin) N Kay (Kurrawa) B Masters (Kurrawa) Beach Relay Currumbin Kurrawa City of Perth
Under 19 2km run E Wray (Nth Cottesloe) C Young (Newport) S Hawkins (Seacliff) Beach Sprint N Kay (Kurrawa) O Fein (Currumbin) N Hadfield (Cronulla) Beach Relay Currumbin Kurrawa Cronulla
Under 17 2km beach run C Gentle (Wanda) C Kelly East End, NZ) 1 A Durante  (Wanda) G Kaihau (Noosa) Beach sprint C Mannix-Power (Cronulla) K Edwards Newport) T Stickler (Kurrawa) Beach Relay Cronulla Nth Cronulla Alexandra Headland