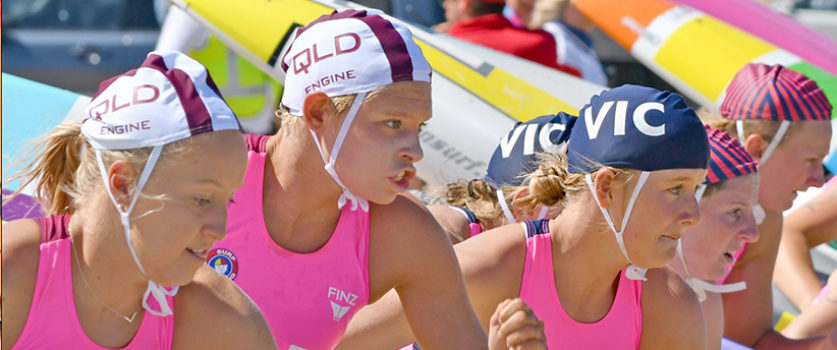 Australia's finest surf lifesavers will represent their state and showcase their lifesaving skills in the annual Interstate competition. This sees the best of the best battle it out in IronMan and IronWoman racing, board races, ski races, taplin relays, rescue events, beach flags and beach sprints, and State pride is on the line.
Participation in the Interstate Championships, is by invitation only with teams made up of individuals selected by their respective state bodies with only the highest calibre athletes included.
"Competitors see this as a great honour to battle it out and be the superior state in surf lifesaving," says SLSA Sports Manager, Wayne Druery. "This event is popular because state rivalry is intense and it's a great opportunity for the athletes to come together to compete to see which state is the dominant force in our sport."
Held over a single day's competition, the state vs. state clash is contested across both beach and ocean events. Two competitions run side by side comprising a male and female section: one for Open competitors and one for Youth (u19 competitors.) Teams are made up of six male and six female athletes. There are no limits on how many events any one competitor may participate in. Entries from each state team are limited to two people for individual events and one team for team events.
2019 Interstates teams (subject to change)
STATE
OPEN
YOUTH
Female
Male
Female
Male
Queensland
Tiarrn Raymond
James Lacy
Tiarnee Massie
Ky Kinsela
 
Maddy Dunn
Lucas Allan
Electra Outram
Cooper Williams
 
Lani Pallister
Mitch Coombes
Tayla Halliday
Matthew Palmer
 
Lucinda Kelly
TJ Hendy
Grace Gurr
Adam Palmer
 
Hannah Sculley
Corey Fletcher
Ruby Nolan
Sam Frost
 
Elizabeth Forsyth
Kieran Gordon
Taylor Stickler
Kai Thompson
NSW
Chloe Mannix-Power
Jackson Borg
Isabellah Walker
Sam Zustovich
 
Naomi Scott
Jay Furniss
Madison Louw
Zach Morris
 
Jemma Smith
Max Brooks
Nicola Owen
Noah Havard
 
Lizzie Welborn
Blake Drysdale
Emily Doyle
Jamee Smith
 
Madison Spencer
Mitchell Trim
Leah Rampoldi
Bailey Johns
 
Alex Rampoldi
Dean Scarff
Georgia Sinclair
Hugh McAlpine
NSW Country
Madeleine Bakker
Brock Scrivener
Cahrizma MacDonald-Cass
Nathan Mackenzie
 
Mahli Borham
Kai Onley
Hayley Smith
Joseph Warne
 
Kate Lewis
Luke Chaffer
Paige Leishman
Liam Worling
 
Jordan White
Angus Macphail
Maisie Miller
Finn Askew
 
Sofie Boyd
Jayden Allen
Anthea Warne
Hugh Stewart
 
Chloe Jones
Bailey Copeland
Claudia Crawford
Will Jones
Victoria
Sophie Thomas
Matt Hardiman
Grace Harris
Drew Green
 
Madeleine Hurst
James Porter
Hannah Schmidt
Archie Vernon
 
Kira Kinsey
Daniel Lopez
Isabella Austin
Brendon Smith
 
Tylah Shanahan
Saxon Beale
Natalie Clucas
Brayden Casamento
 
Marli Wilkinson
Jorden Merrilees
Kimberley Gilling
Campbell Bohan
 
Carla Papac
Matt Gilling
Lexie McNaughton
Henry Van Til
South Australia
Sophie Zuill
Ben Zuill
Kayla Roe
Lachlan Merchant
 
Georgia Zuill
Nicholas Schulz
Charlotte Dolan
Jack Wells
 
Grace D'Aloia
Tom May
Lucy Derbyshire
Thomas Welch
 
Stella Benger
Luke Jones
Piper Cunningham
Jack Stevens
 
Ngaire Hadfield
Patrick Cobiac
Eloise Merchant
Cooper Bristow
 
Britney Pierce
Ryland Newberry
Cloe Griffiths
Calum Scrivens
Western Australia
Tegan Maffescioni
Jackson Symonds
Nikita Fredonnet
Tai Kirkpatrick
 
Asa Nowell
Dan Humble
Chalise Pratt
Patrick Eley
 
Ruby Warne
Thomas Gallagher
Soraya Lee
Matt Colliss
 
Kiera Albertsen
Max Anderson-Loake
Macarah Mallis
Riley Walker
 
Sophie Lloyd
Will Savage
Kalani Scott
Ethan Jackson
 
Sophie Watts
Devon Caren
Sydney Rafferty
Trent Servaas
Tasmania
Maggie O'Leary
Ned Lennox
 
Georgia Matthews
Zane Hadley
 
Miriam Boult
Declan Saunders
Grace Harland
Oscar Gibson
Kate Reardon
Jack Walton
Holly Abbey
Saxon Coates