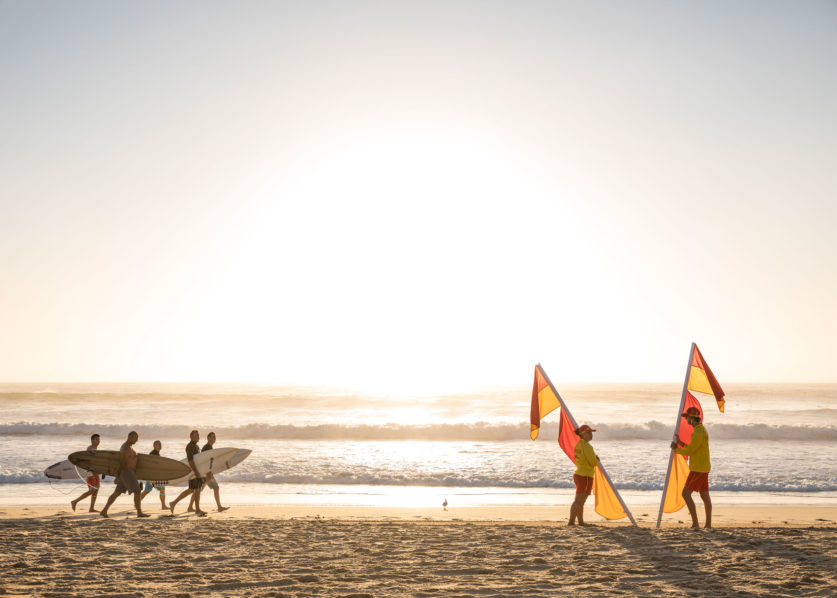 Surf lifesavers ready for influx of beach visitors as Australians prepare to swelter
With the Bureau of Meteorology (BoM) forecasting severe hot weather and heatwave conditions for most of Australia, surf lifesavers and lifeguards are bracing for an influx across beaches as Australians seek relief from the heat.
Surf Life Saving Australia (SLSA) is urging all beach users not to be complacent around the water as they head to the country's iconic beaches to cool off.
This season has already seen a number of drowning deaths, with at least 41 coastal drowning deaths recorded to date, just below last year's figure for the same period of 44.
Surf Life Saving Australia CEO Adam Weir, said the ocean provides a great way for people to escape the heat, but all need to remember to stay safe.
"Last summer was one of our deadliest on record and we have already seen an increase in the numbers of people visiting the beaches," said Mr Weir.
"With forecast heatwave conditions across key major cities and most of the country, we are anticipating the number of people visiting the beach to surge as people seek some relief from the heat.
"Our volunteer surf lifesavers and lifeguards are appealing to all beach goers to swim only at patrolled beaches, stay between the red and yellow flags and understand their own limitations."
The warning comes on the back of SLSAs launch of its summer safety campaign, the 'Think Line'.
"Rip currents are still the number one hazard for those who choose not to swim at a patrolled beach.
"We want anyone visiting the beach to Stop, Look and Plan. Simply take a few moments to just check where you are, check if there are rips, look for other hazards such as large waves or rocks, and have a plan.' said Mr Weir.
"We are appealing for people to find a patrolled beach that is supervised by surf lifesavers or lifeguards. By simply stopping to take two to three minutes to identify any dangers and find a patrolled beach, it could save your life."
SLSA is also reminding beachgoers to consider their own health and wellbeing. Sun burn, heat related illnesses and dehydration can turn a wonderful day at the beach into a painful one.
Tips For Beating The Heat
Remember SLIP on some protective clothing, SLOP on some sunscreen, SLAP on a hat, SLIDE on a pair of sunglasses, SEEK some shade, and SIP on lots of water
Stay out of direct sunlight where possible during the hottest parts of the day
Know the warning signs of heat stress (excessive sweating, rapid heart rate, nausea etc)
Surf Life Saving Australia urges all heading to the beach to consider the following:
Where possible, swim at a patrolled beach, between the red and yellow flags
Obey the safety signs at the beach
Learn how to identify a rip current and look for rip currents before deciding where to swim
If you're not sure, ask a surf lifesaver or lifeguard about the beach conditions
Wear a lifejacket while boating, rock fishing or paddling
Don't go into or on the ocean during severe weather warnings
Take personal responsibility, think twice and assess your safety before entering the water
Supervise children at all times in, on and around water.
For the latest safety information, including patrolled beach locations, visit beachsafe.org.au