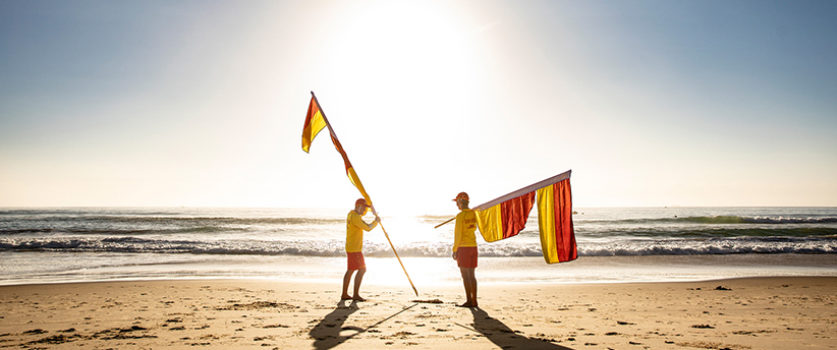 Surf Lifesavers Recognised in Queen's Birthday Honours
Surf Lifesavers were today recognised as part of the Queen's Birthday Honours announced by the Governor General in Canberra for their services to surf lifesaving as well as life saving and water safety initiatives.
Surf Life Saving Australia Life Members Greg Allum (Wanda SLSC, Cronulla SLSC – NSW) and Norm Farmer (Mordialloc SLSC, Frankston SLSC – VIC) were appointed a member of the Order of Australia (AM); while Cyril Baldock (Bondi SBLSC – NSW), Thomas Holmes (North Burleigh SLSC – QLD), Darryl Pope (Seacliff SLSC – SA), George Shales (Coogee SLSC, Maroubra SLSC – NSW), Hugh Small (Cudgen Headland SLSC – NSW) and John Vaughan (Wauchope Bonny Hills SLSC – NSW) all received a Medal of the Order of Australia (OAM). Darren McLeod (Hampton SLSC, Seaford SLSC, Point Leo SLSC – VIC) was awarded the Emergency Services Medal.
Surf Life Saving Australia President, Graham Ford AM, congratulated those associated with the movement who were today honoured for their outstanding service.
"On behalf of Surf Life Saving Australia, I would like to congratulate Greg, Norm, Cyril, Thomas, Darryl, George, Hugh, John and Darren for their outstanding service, achievement and recognition in today's Queen's Birthday Honours," said Ford.
"All are all extremely worthy recipients and surf lifesaving is very proud and fortunate to have their contributions and involvement in our movement.
Chief Executive Officer Adam Weir echoed Ford's sentiments in congratulating the surf lifesavers' honoured and reinforced their importance to the community.
"Congratulations to these outstanding life savers on receiving these prestigious honours today," said Weir. "All are not only are they outstanding life savers, they are also exceptional people and citizens who thoroughly deserve this recognition.
"Our 314 Surf Life Saving Clubs across the country form a vital role within each local community and it's the individuals within each club, such as those honoured today that are the cornerstone of our clubs and community," added Weir.
Volunteer surf lifesavers give up more than 1.3 million hours to patrol Australian beaches each year, but more than that, they contribute to local communities across the country through patrolling, training and educating our young people, community awareness, fundraising and so much more.
Surf Life Saving Australia also wishes to acknowledge Queenscliff SLSC Member, The Honourable Tony Abbott who was also honoured today as a Companion (AC) for his eminent service to the people and Parliament of Australia, particularly as Prime Minister, and through significant contributions to trade, border control, and to the Indigenous community.
Congratulations to the below members who have been recognised for their contribution to Surf Life Saving in the 2020 Queen's Birthday Honours:
Members of the Order (AM)
Greg Allum OAM (Wanda SLSC, Cronulla SLSC – NSW)
For significant service to surf lifesaving, to international federations, and to the community
https://honours.pmc.gov.au/honours/awards/2007029
Norm Farmer ESM (Mordialloc SLSC, Frankston SLSC – VIC)
For significant service to life saving at the national and international level, and to water safety initiatives
https://honours.pmc.gov.au/honours/awards/2007030
Medal of the Order of Australia (OAM)
Cyril Baldock (Bondi SBLSC – NSW)
For service to surf lifesaving
https://honours.pmc.gov.au/honours/awards/2007031
Thomas Holmes (North Burleigh SLSC – QLD)
For service to surf lifesaving, and to the community
https://honours.pmc.gov.au/honours/awards/2007032
Darryl Pope (Seacliff SLSC – SA)
For service to surf lifesaving, and to music education
https://honours.pmc.gov.au/honours/awards/2006879
George Shales (Coogee SLSC, Maroubra SLSC – NSW)
For service to surf lifesaving
https://honours.pmc.gov.au/honours/awards/2007033
Hugh Small (Cudgen Headland SLSC – NSW)
For service to surf lifesaving, and to athletics
https://honours.pmc.gov.au/honours/awards/2007367
John Vaughan (Wauchope Bonny Hills SLSC – NSW)
For service to medicine, and to surf lifesaving
https://honours.pmc.gov.au/honours/awards/2007186
Emergency Services Medal (ESM)
Darren McLeod (Hampton SLSC, Seaford SLSC, Point Leo SLSC – VIC)