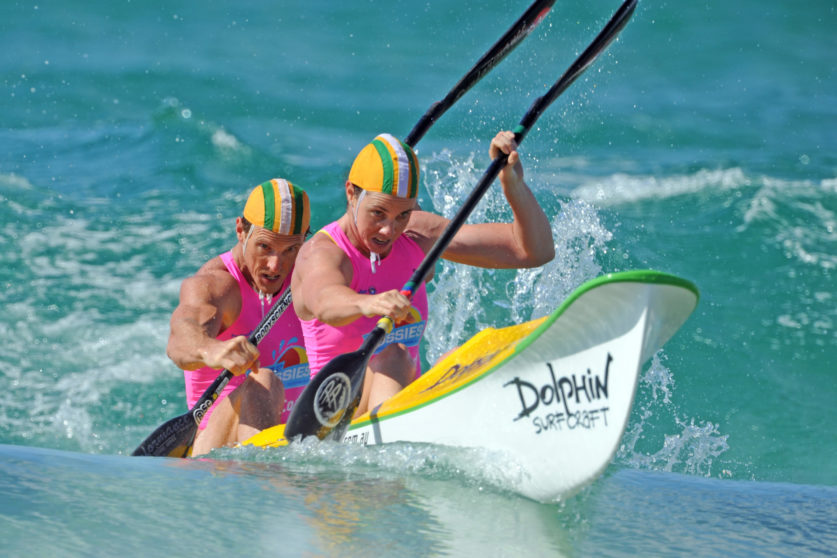 SURF STUDIO: Bernadette Wallace
On this week's episode catch up with Tugun SLSC's Bernadette Wallace who explains how she never thought she was an athlete, she always focused on becoming a great surf lifesaver and now, having overcome some significant medical hurdles, is on track to make her Olympic debut in Tokyo next year as part of the Australian Canoe Team.
"I wasn't amazing to start with…I didn't think of myself as an athlete as a young person, I thought that was my brother and sister and that was their thing," Bernadette said of her brother Olympic kayaker Ken Wallace and sister Fran Wallace who was an elite swimmer.
"I didn't think that was for me but what I did really like doing was hanging out with my friends at the surf club and what that turned into was a lot of time on a variety of crafts in the water."
While Bernadette didn't consider herself an athlete, she took the responsibility and role of being a surf lifesaver very seriously and now takes more pride in her ability to help others than she does in being an Olympian.
"I'm here as an Olympian but as a young person I was really proud of myself that if anything happened on the beach, I knew what to do and I was confident about that," she said.
"We've been in scenarios where we've had to rescue people, and we've had to call ambulances and we've had to do the right thing and handle tricky situations.
"I'm probably even more proud of being able handle that than I am of being an Olympian even … I've helped people and I've put in the hard work to learn my resus (resuscitation) as cleanly or as good as I could.
"If you don't see yourself as an Olympian… then your skills are very needed on the beach and your skills will be needed at some point in lifesaving."
Through Surf Life Saving, Bernadette developed as an athlete and took the skills she learnt paddling in the surf to easily transition into kayaking and then canoeing.
"I had most of my results paddling a ski… but I took that to be able to do the kayak at the Olympics, but that dream didn't quite work out, and I had a bit of a fork in the road in my life," Bernadette said of a melanoma scare in 2016 that dashed her Rio Olympic dreams.
"Learning the surf ski early on, being able to take on the challenges of getting through a wave, turn around at a can … learning to balance in those kind of circumstances is paying off now to be able to learn to paddle another craft.
"The surf has taught me to be resilient."
After many trials and tribulations Bernadette is finally on her way to the Olympics and will make Australian Olympic history as one of the first females to race in the newly introduced sprint canoe events at the Tokyo 2021 Olympics in the C1 200m and the C2 500m with her partner Josephine Bulmer.
To find out more about Bernadette's story make sure to tune into Episode Seven of Surf Studio on the SLSA website and SLSA Facebook page.
Surf Studio is regular online show with each episode featuring stories from around Australia and covering a range of topics such as sport, lifesaving, leadership, education etc and Surf Life Saving Australia encourages everyone to be involved. If you, or anyone you know has a story that you would like to share via Surf Studio please email surfstudio@slsa.asn.au