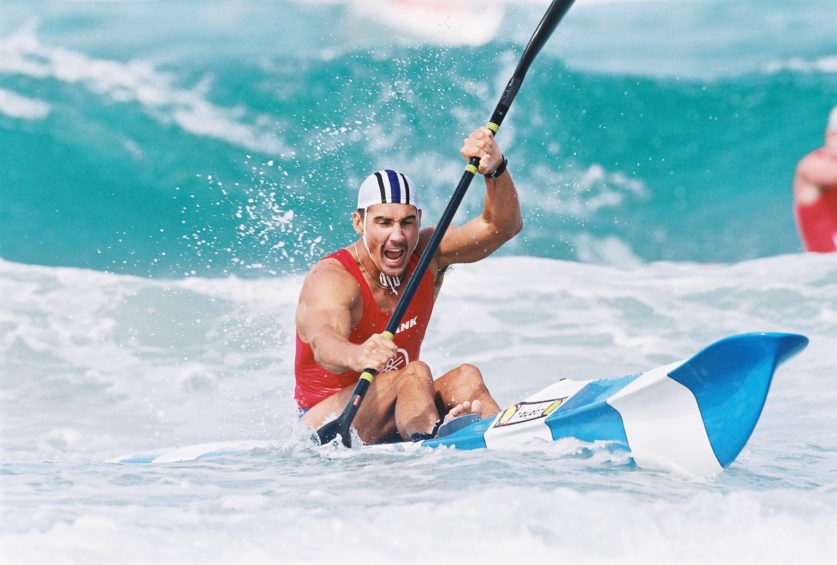 SURF STUDIO: Clint Robinson OAM
On this week's episode we chat with Surf Life Savings' most successful and decorated athlete, Maroochydore's Clint Robinson OAM – a five-time Olympian with a complete set of Olympic medals, 36 Aussies Gold medals, 13 Aussies Open Ski titles and four World Championship kayaking medals.
Clint first started in surf lifesaving as a six-year-old Nipper at Maroochydore SLSC on the Sunshine Coast, and it wasn't long until he found success on the national stage at the Surf Life Saving Australian Championships, winning his first Aussie title in the U15 Board.
"To this date in anything to do with sport, I regard that as my greatest feeling that I've ever had," Clint said of his first Aussie title win in 1987.
"How many titles I won, why I won them, how I won them, there is too many years of experiences to remember them all.
"But the first one that I won was by far the greatest sporting achievement for me that I've ever had," he added.
At only 19 years of age Clint won his first Aussies Open Ski title in 1991 and the next year achieved what most athletes only dream of; winning an Olympic Gold medal at just 20 years-old in the K1 1000M at the Barcelona Olympics, 1992.
"I was the youngest ever individual Gold medallist in Olympic kayaking, so while I was certainly amongst the elite kayaking guys…I still think a lot of people thought I was probably a little young and an Olympics away from really being dominant," Clint said.
"That race was a cracker… it took years off my life that one… I worked really, really hard for that one."
Having won an Olympic gold medal at such a young age, life changed quite drastically for Clint when he returned home to Australia as an Olympic champion.
"My life changed a lot for the simple reason that there was a spotlight put on me and there were no other current people in Surf Life Saving for instance, that were Olympic champions still competing anymore," Clint said.
"Everything I did in my life I was expected to win. That was the hardest thing that changed because there weren't a lot of Olympic champions… and I felt it, I felt that pressure.
"The expectation to win when you're an Olympic champion changes your life."
After his Olympic win and despite the pressure, Clint went on to dominate the ski paddling scene at the Aussies for the next decade and a half, winning 13 Open Ski titles between 1991 to 2008, while only dropping two races between 1991 and 2003.
In 1999, Clint eclipsed legendary Ironman Trevor Hendy's record of 30 Aussies Gold medals, and currently holds the record for the most Aussie Gold medals ever won – a staggering 36 Aussie titles.
A true champion of both Australian kayaking and surf lifesaving, Clint has been inducted into the Australian Sports Hall of Fame, the Surf Life Saving Hall of Fame and was awarded a Medal of the Order of Australia (OAM) for his sporting achievements.
To hear more about Clint and his dazzling Olympic and surf lifesaving career make sure to tune into Episode Seven of Surf Studio on the SLSA website and SLSA Facebook page.
Surf Studio is regular online show with each episode featuring stories from around Australia and covering a range of topics such as sport, lifesaving, leadership, education etc and Surf Life Saving Australia encourages everyone to be involved. If you, or anyone you know has a story that you would like to share via Surf Studio please email surfstudio@slsa.asn.au