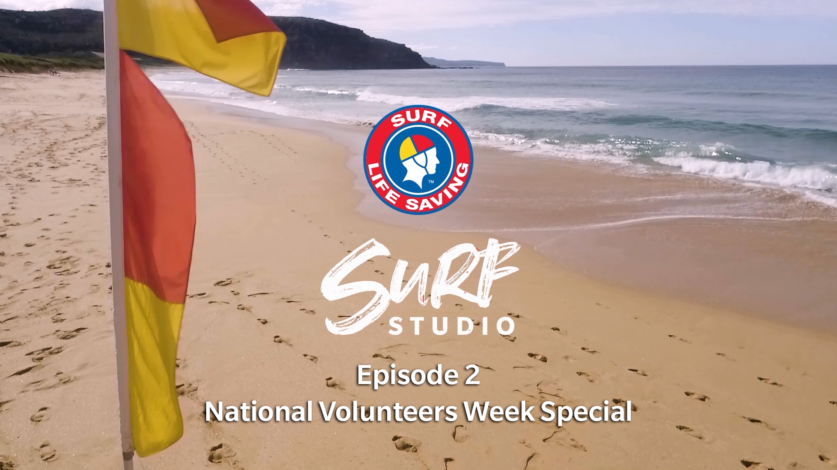 SURF STUDIO: Episode Two Celebrating National Volunteer Week
This week is National Volunteer Week and in Surf Studio, we are taking the time to acknowledge and recognise some of the great volunteers we are fortunate enough to have within our movement.
As the largest volunteer organisation in Australia, Surf Life Saving encompasses over 176,000 members from 315 different clubs around the country, who volunteer over 1.3 million hours to keeping the Australian coastline safe.
We begin the show with the SLSA President President, Graham Ford AM about how he became involved in Surf life Saving and why volunteering is so special to him and his family.
"It's a fairly short story… it's through my children," President Ford said of his introduction to Surf Life Saving.
"We've got five children, four girls and a boy and we took them down to the Bronte Nippers because we wanted them to be able to be competent in the water".
We also catch-up with Albatross Nippers founder and Australian of the Year Queensland local hero Nick Marshall, from Nobby's Beach SLSC about his involvement in Surf Life Saving and the introduction of a Nippers program for children with special needs.
"We're not a standalone day, we're not a special needs day at the beach, we are inclusive Nippers," said Marshall.
"My ultimate goals is that there's no longer an 'Albatross' group, it's not called Albatross, it's just those kids starting to assimilate into their age groups, and with a little bit of extra attention they can progress through Nippers like their peers."
Next, we fly to the Westpac Life Saver Rescue Helicopter base in Sydney to catch-up with the crew who recently performed a rescue, saving two men from a sinking boat off the coast of Curl Curl, NSW.
Helicopter pilot Peter Yates, senior crewman Trevor Cracknell and rescue crew officer Hayden Sorrell talk us through their amazing rescue.
"We arrived on scene and pretty much straight away we located the vessel with one person clinging on to the top of the boat waving around his life jacket and another one in the water holding on to an esky," Sorrell said of the Westpac Life Saver Rescue Helicopter locating the overturned boat.
"We winched down and first picked up the person holding on to the esky…and we winched back down and grabbed the other person off the top of the boat."
"The actual boat sank straight after we got the second patient in, and a few minutes later that boat sank… if that had of happened before we got there, it would've been a lot harder to find these guys," added Senior Crew member Cracknell.
And finally, we take a trip to Fairhaven SLSC in Victoria to chat to Club Captain Michael Henderson about his passion for the movement, leadership and the important role volunteers play in the community.
"We are all there to achieve one goal in surf lifesaving and that is that everyone who goes out for a swim comes back safely," said Henderson.
"When you have a group of people with you at the beach, wearing the red and yellow that have that same common goal in mind, it is a critical thing for the community, the club and it is enormously rewarding".
To find out more about each of these stories make sure to tune into episode two of Surf Studio this Friday night on the SLSA website and SLSA Facebook page.
Surf Studio is regular online show with each episode featuring stories from around Australia and covering a range of topics such as sport, lifesaving, leadership, education etc and Surf Life Saving Australia encourages everyone to be involved. If you, or anyone you know has a story that you would like to share via Surf Studio please email surfstudio@slsa.asn.au