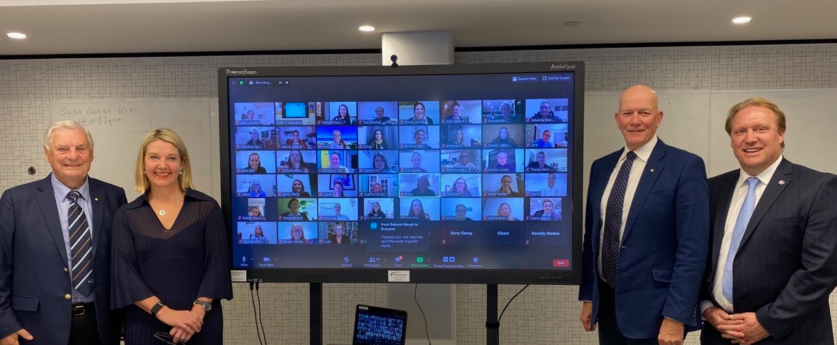 Surf Studio: SLSA Women's Mentoring Program
On the latest episode of Surf Studio, we take a look at the inaugural Surf Life Saving Australia Women's Mentoring Program that was launched by life member Suzanne Storrie on July 1, in conjunction with the 40 years of women in surf lifesaving milestone.
From the 160 applications received, 20 mentors and 20 mentees were selected to participate in the program, which was designed to strengthen leadership skills, and develop the next generation of female leaders to position Surf Life Saving for the future.
SLSA Life Member and Board Director, Suzanne Storrie, has worked tirelessly to get the initiative off the ground and said that she is looking forward to witnessing the first group of women to the program.
"The mentoring program has been something that I've worked on and dreamed about for about three years," Storrie said.
"I'm so excited and delighted to be here tonight to launch the mentoring program because I believe it has the potential to change lives and to create great opportunities and a great network across surf lifesaving."
The program pairs 20 mentors with 20 mentees who will develop and support each other across the next 12 months. Empowerment, support and leadership skills will all be part of the program, which participants can then use and apply to their professional and everyday life, both within and outside of surf lifesaving.
"This will provide the opportunity for the mentees to be matched with mentors and the program is really to support those 20 mentees with their lifesaving leadership aspirations but also their broader life aspirations," Suzanne Storrie said on the launch night of the Women's Mentoring Program.
"I have certainly benefitted in my career both in surf lifesaving and more broadly from having great mentors and we wanted to create that opportunity for women in lifesaving.
"There's no better day to do it than on the 40-year anniversary of women being able to do their bronze medallion in surf lifesaving."
Launched via Zoom, mentors and mentees dialled in from around the country to find out about the program as well as who they had been paired with for the 12-month program.
Also, in attendance for the launch at Bondi Surf House was SLSA President Graham Ford AM, SLSA Life Governor Alan Whelpton AO and SLSA CEO Adam Weir.
The following mentors and mentees will participate in the inaugural Women's Mentoring Program.
For more information on the Women's Mentoring Program click here.
MENTORS – Amanda Mackinnon (Carlton Park), Belinda Doman (Coolangatta), Carolyn Wilson (Secret Harbour), Christine Hopton (Avalon Beach), Heather Morris (Coogee), Jenni Darwin (Umina), Jenny Kenny (Cudgen and Currumbin), Kate Bell (Mentone), Kerrie Barnes (Point Danger), Kirsten Phillips (Metropolitan Caloundra), Kylie Bade-Peters (Mermaid Beach), Leesa Equid (Swanbourne Nedlands), Lynette Barratt (Devonport), Rae Lawson (Henley), Romilly Madew AO (Bilgola), Samantha Fien (Sarina), Shay Chalmers (North Kirra), Sue Mitchell (Henley), Tracey Hare-Boyd (North Steyne). Vicki Rasmussen (Mullaloo)
MENTEES – Amber Henderson (The Lakes), Amber Loone (Devonport), Bernadette McKay (Avalon Beach), Briny McArthur (West Beach), Brittaney Banks (North Bondi), Cassie Wilmot (Seacliff), Courtney Hancock (Surfers Paradise), Courtney Taylor (Currumbin), Emily Price (Burnie), Emily Mellor (Portsea), Felicity MacArthur (Bondi), Kate Burke (Fremantle and Broome), Lara Emmett (Ulverstone), Laura Adolphus (Secret Harbour and Swanbourne Nedlands), Megan Blin (Kawana Waters), Melissa Gorgijovski (Wollongong City and Warilla Barrack Point), Molly Cocks (Clovelly), Rebecca Waugh (Coogee), Sophie Valdeck (Bronte), Tyla Cousins (Goolwa)
To hear more about the launch of the inaugural Women's Mentoring Program, make sure you watch episode six of Surf Studio on the @SLSAustralia Facebook page or at sls.com.au/surf-studio/.
Surf Studio is regular online show with each episode featuring stories from around Australia and covering a range of topics such as sport, lifesaving, leadership, education etc and Surf Life Saving Australia encourages everyone to be involved. If you, or anyone you know has a story that you would like to share via Surf Studio please email surfstudio@slsa.asn.au