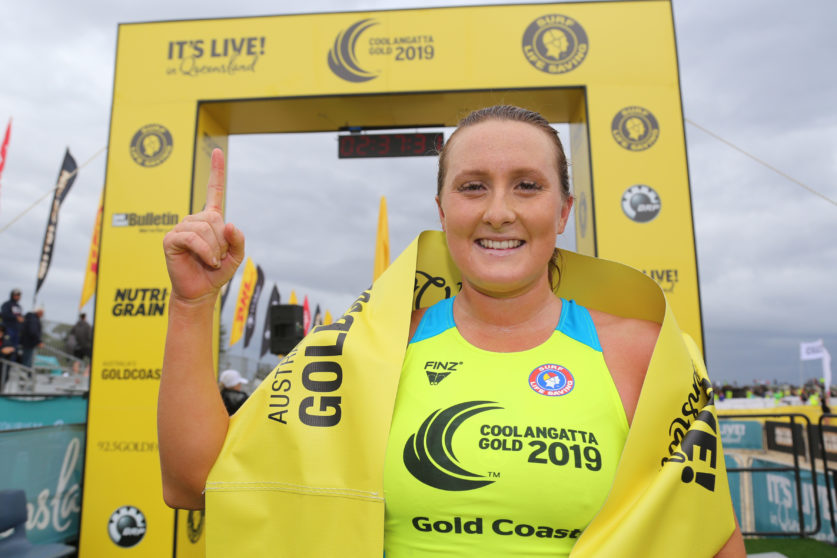 Young talent shines in Coolangatta Gold short course racing
The Coolangatta Gold Festival got underway today on the southern end of the Gold Coast, with sensational young athletes leading the way in the short course titles.
The fastest short course performances of the day came from the U19 men's and women's champions. With the Open events also won by outstanding teenagers. The seas were calm with heavy rain at times for competitors completing the 10.5km ski, 2km swim, 3km board and 5.5km run.
World Youth Ironman Champion Zach Morris, 17, from Newport SLSC in Sydney, took out the men's Open event in two hours, 20 minutes and 14 seconds. Morris had a great battle with local 17-year-old Kaan Karadag (Kurrawa SLSC) throughout with Morris making a move near half-way through the run and he held on. Daniel Mole (20) from Kurrawa SLSC claimed the bronze.
"I had to get a good start and stay at the front," Morris said after the win. "I knew my swim leg was my strongest leg so I really pushed it hard then, so I could back it off in the board and save up for the run.
"About 100 metres off the turning flag in the run I thought 'I've got to start pushing the pace here if I want to win this' so I overtook Kaan and just went for it from there."
Last year Morris was third in the U19, so a big step up to win the Open.
Mole, who only moved down from Brisbane to the Gold Coast last year to shift his focus from kayaking to Ironman, was the happiest bronze medallist of the day.
"It's just such an incredible race and an epic atmosphere down here. I felt pretty good on the ski, my strongest leg, and tried to hang on to these guys who swim like fish. It was an epic atmosphere and I had such great support and I'm really happy with third behind this fantastic talent."
Peabody recorded the fastest time of the day
The fastest time of the day came from 16-year-old Connor Peabody. The Kurrawa SLSC competitor showed endurance well beyond his years to complete the course in a sensational 2:16.06, to win the U19 by over two minutes.
Peabody wanted to race last year but was too young and he certainly showed his potential with a superb performance. His swim and run were really a class above all other competitors.
Nathan Jay, 17, from Wanda SLSC finished second in the under 19 category in 2:18.24, and Texas Dixon from Noosa Heads was third in 2:19.25.

Bryant takes women's open short course crown ahead of pregnant Crerar
The women's open title was won by another outstanding young competitor with 19-year-old Courtney Bryant (2:34.10). She led through every leg and praises the support of her dad and coach, and the strong athletes she trains with at Noosa SLSC on the Sunshine Coast.
"Lana Rogers and Jordan Mercer are the two best girls in the sport and to be able to train beside them and get advice off them every single day is amazing," Bryant said. "I am very lucky, no other club could provide me with that opportunity."
Bryant benefited from having her coach and surf legend Darren Mercer keeping her on track.
"Having Darren beside me on that swim was really good because I was starting to get a bit put off," Bryant said. "He kept talking to me and bringing me back and bringing me home. Without Darren I don't think that I would have been able to finish that race today."
Now that she has the open short course title, she will tackle the long course event next year. In the meantime, she has a big summer of racing ahead.
Although Bryant led for the entire open event, arguably the most impressive performance came from Rachel Crerar of Manly SLSC. Crerar is 15 weeks pregnant and finished second (2:45.56). The 29-year-old wanted a new challenge and is also raising money for Esophageal cancer research after losing her uncle last year. Manly SLSC teammate Flo Epper just held on in the run leg for third.
Halliday and Harrison fastest females of the day
The fastest female competitor of the day was 16-year-old sensation Tayla Halliday. The Alexandra Headlands SLSC athlete, who missed out on the Nutri-Grain Series by only one place and one point, completed the course in 2:31.46. Piper Harrison who just turned 17, from Manly SLSC, was only 13 seconds back. With Ella Kingi a further two minutes back in third. Halliday is fresh from representing Australia at the AUS Youth International Surf Rescue Challenge in South Africa. Halliday and Harrison have huge careers ahead of them.
The seas were calm and the rain steady throughout most of the morning with over 400 competitors from Australia and overseas racing the eight short course events across men and women – Open, U19, 35-49 and 50+.
It was also a special event for Tasmanian Don Marsh who has now competed in 10 individual and one team Coolangatta Gold. His plan on the start line was to get on the ski quick, wash ride someone and be smart. He finished looking fresh and with a big smile.
Full results from the short course races are available here (https://www.multisportaustralia.com.au/races/CGG-2019)
Countdown on to Coolangatta Gold
Sunday will see the elites and age group competitors tackle the gruelling 41.8 kilometre Coolangatta Gold. In a Coolangatta Gold first, the race will double as round one of the Nutri-Grain IronMan and IronWoman Series, as Australia's elite athletes battle it out for the prize money and vital Series points on offer.
Known as the most gruelling ironman and ironwoman race in the world, the Coolangatta Gold this year has attracted athletes from around the globe including Denmark, United Kingdom, USA and New Zealand.
Racing gets underway at 730am at Coolangatta. Follow the @SLSAustralia social channels for full coverage.